Saturday, 17 September 2011
by Admin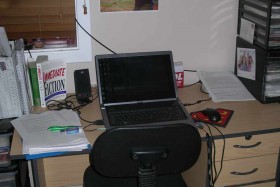 Okay, I'm back again with the next round of author's and their special places.   I was hoping to get this up on Friday but I had to work at the shop. But now I have the whole weekend to put this one together.  This time we'll start with Cathryn Hein. You would have seen her new book Promises doing the rounds in the papers and displayed in the shops. I was lucky to meet this wonderful lady in person at the RWA conference. (Yes, I met lots of amazing authors there…and i'll be going again next year lol) Cathryn: "One of my best writing investments has been this work station and chair. I used to work on an overcrowded old square desk with a cheap office chair but found it too uncomfortable. This set-up allows me to have all my notes spread out and within swivel distance, and being under the window means there's plenty of light.
Recent Post
February 2nd Hi Fiona, I can't believe it's Feb...

I've been a little quiet lately, but ther...

It was an Author Talk tour of epic propo...