Okay, I'm back again with the next round of author's and their special places. I was hoping to get this up on Friday but I had to work at the shop. But now I have the whole weekend to put this one together.
This time we'll start with Cathryn Hein. You would have seen her new book Promises doing the rounds in the papers and displayed in the shops. I was lucky to meet this wonderful lady in person at the RWA conference. (Yes, I met lots of amazing authors there…and i'll be going again next year lol)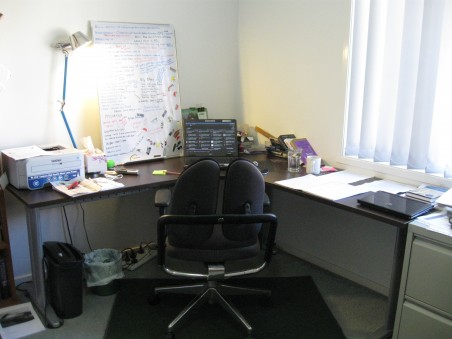 Cathryn: "One of my best writing investments has been this work station and chair. I used to work on an overcrowded old square desk with a cheap office chair but found it too uncomfortable. This set-up allows me to have all my notes spread out and within swivel distance, and being under the window means there's plenty of light. The chair might look weird but it's super comfortable. No more aching back! I have more whiteboards – 3 in total – but they're out of camera shot, as are my overloaded and very messy bookshelves. I was too embarrassed by the state of them to show you!"
***
Mandy Magro is another rural author with her first book Rosalee Station already out. I know she's already working on book 3, (yep, book 2 already written and will be out next year sometime i'm guessing) so her office must be a happy place to be.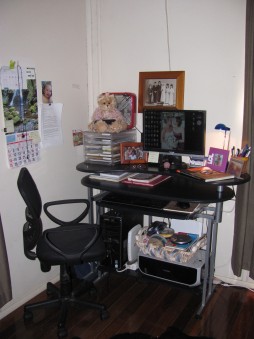 Mandy: "This is where the magic happens, or so to speak 🙂 Seeing our home is a small 2 bedroom cottage, for now, my office is in the corner of my bedroom…hmph! I love to have photos around me of the people in my life that mean the world to me. My desk is almost taken over by them! The shawl wrapped Grandmother teddy that sits beside my computer was given to me from a very dear friend of mine when my nanna passed away last year. Every time I look at it I have warm memories of all the times I spent with my Nan, kind of like she is watching over me when I write. I have a little Rose Quartz ball which sits in front of the computer, a touch of my spiritual side. Apparently it stops all the nasty computer rays! And seeing I spend so much time in front of the computer I am willing to try anything to stop me from feeling zonked at the end of the day. It may be a small space but it is my little hideaway where I can lose myself in my fictional world, sometimes while still in my Pj's…okay…maybe a fair bit of the time while still in my Pj's. :)"
***
Now I'm very excited to have Monica McInerney on my blog! She has her new book Lola's Secret due out in October, for release in Australia and Ireland. This bestselling author dosn't disappoint with her office view's either. Just gorgeous! I'm happy to say Monica has survived the wild and windy of Hurricane Katia in Dublin. (and hopefully she's back to writing the next book)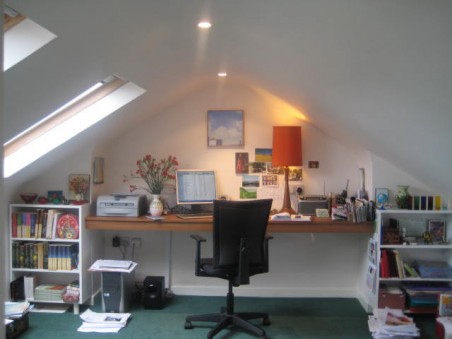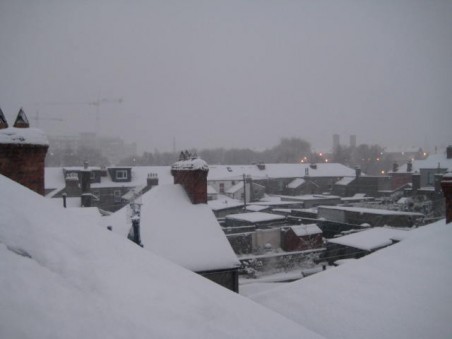 Monica: "I write in the attic of our house in innercity Dublin, at a desk tucked in under the roof, with light streaming in through two skylight windows. I have to be careful when I stand up, as the ceiling slopes. I bump my head most days. I started writing my new book Lola's Secret up here during the December snowstorms, when the view from my window was a winter wonderland. The only sounds I could hear were the fall of snowflakes on the glass and the ticking of the central heating radiators. I wrote draft after draft during spring, and finished the final edits in summer, with the windows wide open. My favourite sound then was the click-click of birds' feet running across the roof just inches above me. Now I'm starting my new book in autumn, and the clouds are scudding past the window and many of the birds are leaving for warmer climates. The desk is crammed with cups, pens and notebooks, the wall is covered in postcards, photos and a painting of a blue sky, and the floor is piled with paperwork and manuscripts."
***
Now it seemed a bit harsh to have another author go after Monica's dreamy snow view of Dublin, so I've decided to put my 'work space' photo here. (Hey, its only me, I can't offend myself lol)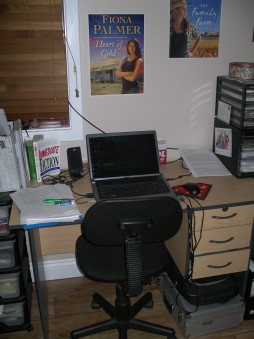 This is my 'area' in our office room. The kids have an old school desk in the corner that was once used by me at their age, and at the other end is hubby's desk area etc. The wall behind me is lined with white cupboards that hold all sorts of sh….crap. (The big silver box under my desk is the golf club secretary box, and the white holder on the side has Progress stuff…but the rest is writing stuff.) And my only craft book Immediate Fiction lol. I have two special postcards on the side, one from Melissa Doyle and the other from Rach Treasure. They are my 'OMG I have a postcard from them!' section. 🙂
Hope you all enjoyed today's photo's. Will have more next week 🙂