Writing spaces part 2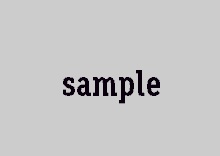 Hopefully you are eagerly waiting to see into the next few authors private writing spaces…I know I am. I find it so fascinating!  Well I won't dribble on and make you wait.  Here are the next few:
First up I have Rachael Treasure, who is, in my mind, the Queen of the rural genre. Her first book Jillaroo being one of my favourites and her new book The Girl and the Ghost Grey Mare is due out 1st October.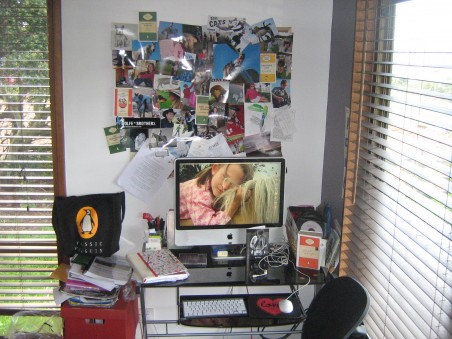 Love that the Penguin's feature 🙂 Below is her view from the window…I'm jealous!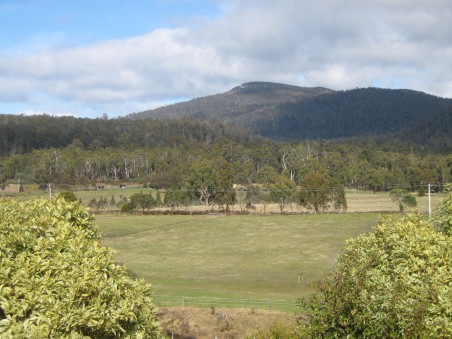 Rachael: "Here is my writing space! Since moving into a two-bedroom house with my two children a year ago I don't have the luxury of an office or studio anymore. Instead my writing space is set in a tiny corner of my bedroom. I love having my work space here as I can get up and create in the night at any time I like. Also the view from the desk is stunning. Sometimes the clouds (often painted with rainbows) that pass across the face of the mountain help me to centre myself, appreciate my blessings and get on with my writing. This is my Heavenly Hill!"
***
I have new author
Margareta Osborn Kerby
whose first book Bella's Run is due out early next year by Random House. Keep you're eyes out for that one. (Another fabulous rural fiction).  And this is where Margareta's magic happens.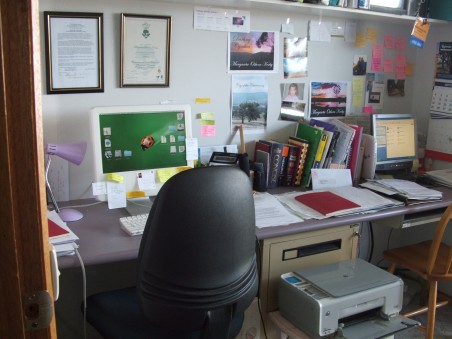 Margareta: "It's a mess! Haven't had time to clean it up as I'm in the middle of Book 2. This messy space is home for writing books, keeping books (farm), keeping books (CFA)  and for lot's of other things in between.
Some of the pictures are the 'book covers' my son makes up for me, so I keep the dream right there in front of my eye's. And my RWA first sale ribbon in the dangly thing on the right – it's just the best!"
Hmm well if thats messy then i'm a monkey's uncle! Margareta I don't know what you're worried about 🙂
***
Now for historical romance writer, and favourite Australian Romance Author for 2010, Anna Campbell. I've just looked at Anna's award page on her website…OMG! I'd be happy with one of them 🙂  Her latest book is Midnight's Wild Passion.
I must say I love the bookcase in the next picture, nice and full.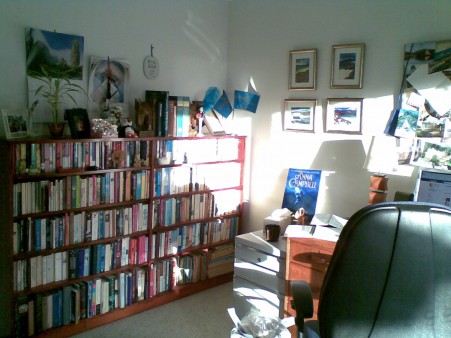 Anna: "Hi Fiona! Thank you for asking me to join in. I love learning about other writer's work spaces. For many years, I had a desk squeezed into the corner of a tiny little flat in Sydney with a wonderful view of the neighbours' toilet windows. So you can imagine how much I love that now I have a whole office to myself with storage space and a lovely view of the garden. It's a place where I keep a lot of stuff that makes me smile like special presents from friends and inspirational postcards and my awards."
***
And the lucky last today is Fleur Mcdonald of Red Dust and Blue Skies fame. Now Fleur's work space is a bit different than most. Being a farmer, she dosn't have the luxury of spending her days by the computer. What do you think…could you write a book this way?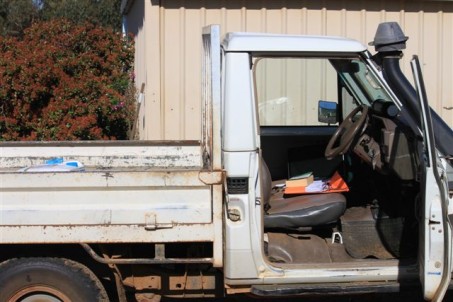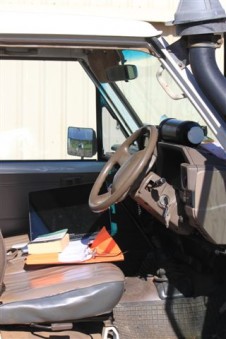 Fleur: "At the moment, it's 'harvest time' for us. Our lambs are ready to go to market, it's shearing time and, being spring, we have to keep a close eye on the sheep, for flies. We usually try the 'prevention rather than cure' method and jet everything. So in saying all of that, it's very busy and I don't think I've had more than one day out of the yards, over the past month.
 So, insaying all of that, my edits are waiting on the seat of my ute, my computer is my constant passenger (along with our new pup Weazel) and when I'm shifting mobs of sheep down the laneway, I'm able to spend a few quiet moments reading the MS, editing and drinkign cups of tea from my thermos!"
***
So there you have it, a few more different work spaces.  Now I still have more authors to come…Cathryn Hein, Mandy Magro, Jaye Ford, Monica McInerney…so keep an eye out.
Also if there are any authors out there who would like to participate, please feel free to email me your work space and I'd be happy to post it. Cheers 🙂
Recent Post
Shares February 2nd Hi Fiona, I can't believe i...

Shares I've been a little quiet lately, b...

Shares It was an Author Talk tour of epi...