Monday, 28 November 2011
by Admin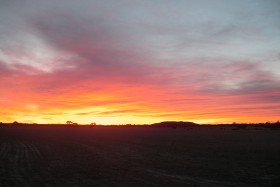 It's been a while since i've put up another poem but I was talking with someone who really enjoyed the poem in Heart of Gold. But for the book we had to shorten it and could only use a few select verses. So now I'd like to share the proper version with you.  Enjoy. (Sorry for any typos, I had typers cramp by the end of this.) (Thanks to my Aunty Lorna, who wrote her poems when she was living in Pingaring) Australiana Boronia bushes heavily scented, Australian crawl, the stroke we invented, The Murray River and Golden Mile, The savage attack of the crocodile. Lightening Ridge where the opals are mined, Bundaberg where the sugar's refined, The beauty of the desert peas, Widespread bottlebrush and acacia trees. Bushfires that make the best men nervous, The Royal Flying Doctor Service, Stations that sit in isolation, Arid land watered with irrigation. The endless soaring of teh big wedgetail,
Recent Post
February 2nd Hi Fiona, I can't believe it's Feb...

I've been a little quiet lately, but ther...

It was an Author Talk tour of epic propo...