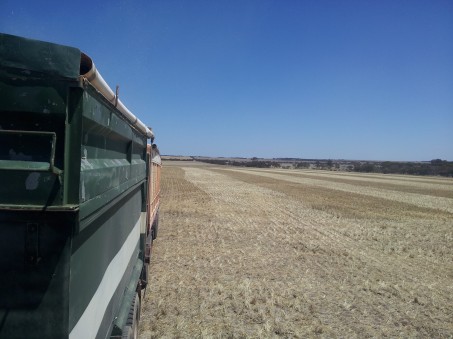 Yesterday my son and I jumped into the truck with my dad and headed out for a load. It's hot and sweaty, dusty and sometimes itchy and there were spider webs….but besides all that it still is fun to go out for a ride. Here is my son, sitting up the back enjoying the ride.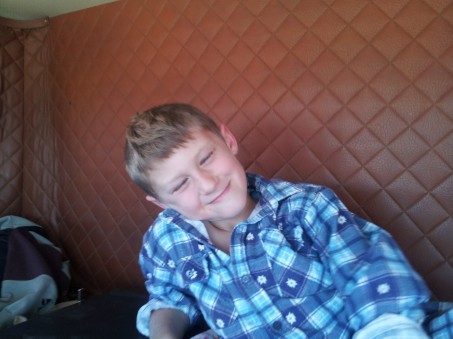 When we got out to the farm, they had finished those paddocks are were getting ready to move to another area of the farm. So my dad & Blake went back to the CBH bin to drop off his load and I stayed to help John shift. With my Uncle & Aunty not on their farm anymore, I miss out on helping them shift, so this was fun.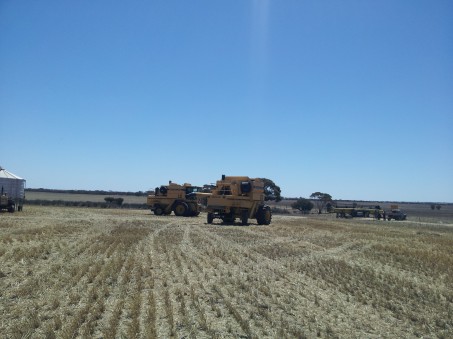 They gave me the old Landy, which was still in good shape. The comb on the back makes it hard to turn through gates as it is, but this one had no lenght on the tow hitch, so if I turned sharply the comb would hit the back of the ute. This all seemed a lot easier before I got in the Landy and my side mirror faced down on the ground. I had to guess my way around all the corners.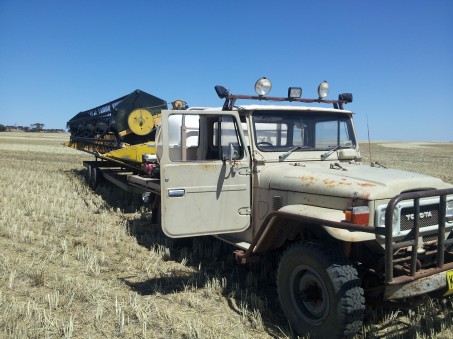 When we got to the other farm, my dad was back to leave his trailer behind for them to fill while we went back to get the lasts 8 tonnes in the field bin. After dad emptied it I drove the tractor and field bin back to the other one by the gate. It has been probably eight years since I last drove a tractor.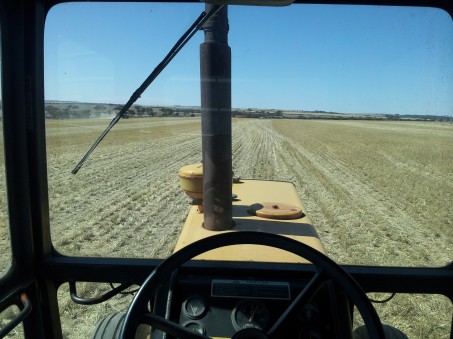 It was a great way to spend my Sunday afternoon. And when I got home I ended up finishing the first draft on my next book, The Outback Heart. So I am free to enjoy my Christmas holidays without word counts.
It's a busy week ahead. We have our farm gate lights competition this friday, so Thursday I must put up our lights. Then Saturday is our 87th community Christmas Tree and Sunday I have my brother, sister and nephews coming. Can't wait to see them. They live in Townsville, so we miss them heaps.
Also the CWA ladies had a sausage sizzle at the tree last Friday, check out the turn out. It's been a long times since I've seen the carpark this full!! The gumtree's on the right are my lights project for Thursday. I will try and take a photo of the finished result for you. (That's if it turns out okay)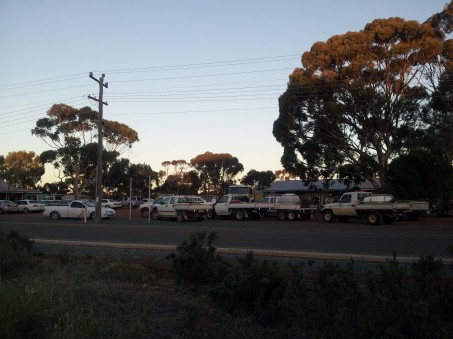 So I'm still waiting to see the cover of The Sunburnt Country….I feel like I've been waiting for months. But by the time school goes back next year, the book release will be so much closer.