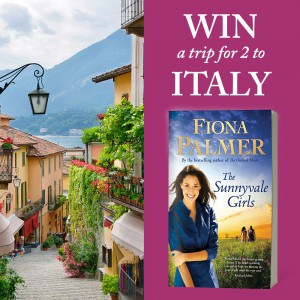 That's right, a trip. To celebrate the release of The Sunnyvale Girls go to
www.penguin.com.au/competitions
submit a review and you could win a trip for two to Italy.
(Sadly if you are my friends or family, you can't enter. Depressing, I know!)
I'm so excited about this competition as this time last year I was in Italy researching for this book! You can find my previous blog posts on my website where I write about my amazing trip. (there are lots of photo's!)

Also in a few weeks I'm off on a national tour. I'd love to meet you and have a chance to tell you about this story, so if you can make one of these events then please come along. 🙂
Details here.
To keep up with all these details and more please
follow me on facebook.
🙂 Cheers Fee x