I've been a little quiet lately, but there is a good reason for that. Harvest. Now last year I spent harvest writing The Sunnyvale Girls and by the time I came up for air I had one ride in the truck with dad and then harvest was finished. A very weird feeling I must say….felt like I'd missed a whole chunck of life. But not this year, this year some friends asked if I would drive their second header. I jumped at the chance as they were happy for me to work between school hours. Perfect. It probably wasn't meant to last long but due to weather, good yield and breakdowns we are still harvesting. Not that I'm complaining as I'm loving it. I have a beautiful big yellow New Holland header called Holly and we have been carving up the paddocks, collecting canola, barley and wheat. Going to work each day is a joy.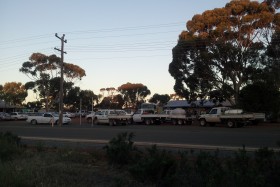 Yesterday my son and I jumped into the truck with my dad and headed out for a load.  It's hot and sweaty, dusty and sometimes itchy and there were spider webs….but besides all that it still is fun to go out for a ride. Here is my son, sitting up the back enjoying the ride. When we got out to the farm, they had finished those paddocks are were getting ready to move to another area of the farm. So my dad & Blake went back to the CBH bin to drop off his load and I stayed to help John shift.  With my Uncle & Aunty not on their farm anymore, I miss out on helping them shift, so this was fun.  They gave me the old Landy, which was still in good shape. The comb on the back makes it hard to turn through gates as it is, but this one had no lenght on the tow hitch,
Recent Post
February 2nd Hi Fiona, I can't believe it's Feb...

I've been a little quiet lately, but ther...

It was an Author Talk tour of epic propo...