This weekend just gone, I went with a friend to Perth where we shopped for 47 kids for our local Christams Tree. We are going down in numbers but for a 5 house country town we still get a massive turnout each year with past and present folks. It's the 86th Christmas Tree in a row and a huge event for us with hundreds coming. So, here we were running around getting the biggest and the best gifts (we help Santa…our kids think we are very cool) and we have a $ limit we have to stick to. But while doing this we are also fitting in our own last minute xmas shopping. (and a few extra's like plants!!) Needless to say the massive 7 seater car was packed to the roof! (Also lots of lights – After all we are having a farm gate lights competition this year.)
Below is just a few things we got.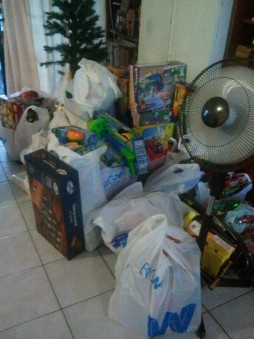 Also I thought it would be appropriate to share this poem on xmas shopping with you.
Xmas Shopping – by Lorna Madson
The list gets longer and the cards have been sent,
Your hard earned savings are about to be spent,
Year after year you always say,
There's got to be an easier way!
But you haven't yet fount it and it's always the same,
When you play the Xmas shopping game,
So with list in hand and money in pocket,
You set off up the street like a rocket,
There's never enough time to do this job,
And you're always conscious of spending a bob.
What to buy who and who to buy what,
You hope there's no-one you forgot,
The shop assistants try their best,
To put your patience to the test.
That would be good, but it's just too dear,
And you gave them one like that, last year,
She wouldn't use this and he'd never wear that,
Your back starts aching and your feet feel flat.
By the time you're finished, your head's in a spin,
You feel weak and your wallet feels thin,
Then you take it home and gift wrap it all,
And put it beaneath the tree standing tall.
And you realise on Xmas day,
It was worth the effort in every way,
For they'll smile and say thankyou, whether or not,
They've got six more at home of what they just got.