Well we had two wonderful days in Wagin for the Woolorama. We met with the GWN crew for an interview on Thursday before we set up and then headed back to my cousins place to camp the night. We set out early the next morning along a back gravel road to cut across to Wagin…then our car died.
Stranded…well we would have been if cousin Nigel hadn't come along the same way. So we bundled all our stuff into his ute and made it on time. My dad had to drive 150km to fit a coil from his speedway car onto ours so we could pick it up on the way home. Sometimes I don't know what i'd do without family.
Nigel featured a lot over the two days, with him shearing in the clean shears competition. I was at my stand signing books but I heard that a woman won the intermediate event, which is great news.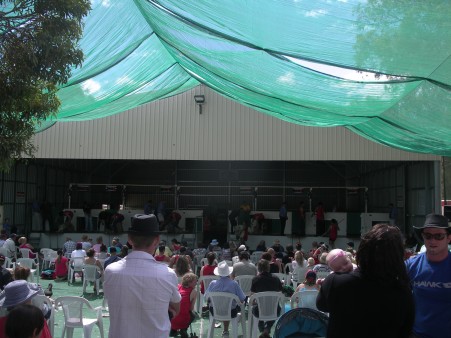 Below is where they hold the competition. (This is what I wrote about in Heart of Gold)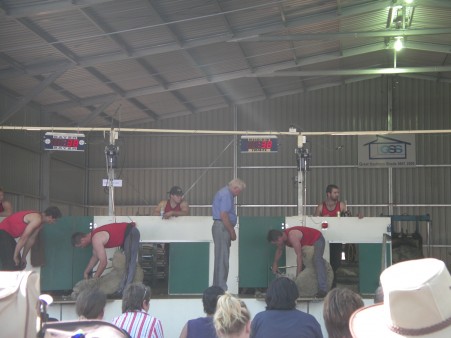 And here is Nigel in the final of the Open. The guys beside them are the judges, who hold a counter and click on any points from second cuts etc that they see. They then rotate onto the next shearer so its evenly judged.
Nigel, being a full time farmer, hadn't done any shearing in ages. So its still impressive to see him pick up a handpiece and end up in a final. Don't think his body liked it much and I bet he's back off to the chiropractor again soon.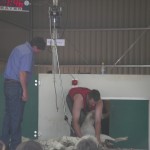 Also I got to sneak off to see some sheep judging and support my best friend who has a Border Leicester stud. Their ewe took out top honours.
It was a great few days. I sold lots of books, meat heaps of wonderful people and I've spend the last few days with the fashion parade songs going around in my head!! Thanks to everyone who came and said 'hello'. Don't forget to enter the competition for my book in The Countryman paper. x