Monday, 06 February 2012
by Admin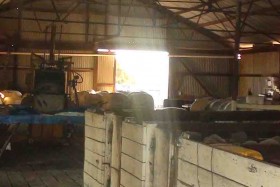 I thought it was time for another poem as seeing as a few farmers around here have been shearing, I thought this was appropriate. Enjoy. Shearing – by Lorna Madson I still recall shearing at Dad's place, All those early starts, Learning to skirt the fleeces, Pulling off the daggy parts. I remember Dad sewing up sheep that were cut, With a needle and big piece of cotton, Sometimes we helped him yard up the sheep, Or bring in some the dog had forgotten. There's a definite art to throwing a fleece, One that i'm still yet to master, The only time I ever tried, Was a complete and utter disaster! It was always a guess as to when we would shear, Dad never knew quite when they'd come, But you always knew by their thirsty look, When they were about to do the last run. Mum prepared meals and worked in the shed,
Wednesday, 16 March 2011
by Admin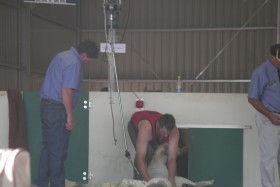 Well we had two wonderful days in Wagin for the Woolorama.  We met with the GWN crew for an interview on Thursday before we set up and then headed back to my cousins place to camp the night. We set out early the next morning along a back gravel road to cut across to Wagin…then our car died. Stranded…well we would have been if cousin Nigel hadn't come along the same way. So we bundled all our stuff into his ute and made it on time.  My dad had to drive 150km to fit a coil from his speedway car onto ours so we could pick it up on the way home.  Sometimes I don't know what i'd do without family. Nigel featured a lot over the two days, with him shearing in the clean shears competition.  I was at my stand signing books but I heard that a woman won the intermediate event, which is great
Recent Post
February 2nd Hi Fiona, I can't believe it's Feb...

I've been a little quiet lately, but ther...

It was an Author Talk tour of epic propo...