I was thinking of the lake today, now that the weather is warming up. It made me go back and watch this clip. I love the ending sunsets over the lake. (I just fast forward past all my talking bits urgh!) For me it's such an awesome way to spend a hot afternoon, splashing about, sitting under the trees looking out across the lake, enjoying a drink and a chat with friends while we relax and watch the sun set.   Bring it on. 🙂  It will be our last chance to ski as after this summer it will be to salty and will go dry again, until the next flood.
Monday, 07 May 2012
by Admin
Not that long ago I blogged about the film crew that was in Pingaring, doing a doco for Penguin. Well it's finally finished and Andre Sawenko has done a fantastic job putting all the shots together. (Especially my parts…I didn't give him much to go on lol) So here it is, I hope you enjoy seeing where I live. After all, it's what inspired me to write. 🙂
Sunday, 22 April 2012
by Admin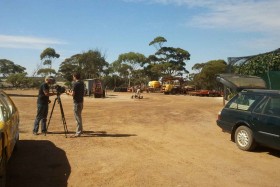 I know its been ages since I've blogged but lifes just been a little crazy. School holidays haven't helped, feels like the kids have been home for ages and still they don't go back until Thurdsay! And now that hockey has started (yes, as I'm typing this my body is hurting) I'll have even less time for things. But we had a little bit of excitement in out tiny 5 house town last week with the arrival of two fellas from over east. Andre, and his camera man Jono, flew, then drove, to our wheatbelt town to do some filming for Penguin for an online clip.  I was overjoyed that Penguin were putting in the effort but totally freaked out by the cameras. I don't talk great, I have a brain and mouth which don't tend to communicate to each other very well. So for the two days I was nervous as hell. (made worse by the
Recent Post
February 2nd Hi Fiona, I can't believe it's Feb...

I've been a little quiet lately, but ther...

It was an Author Talk tour of epic propo...