I was thinking of the lake today, now that the weather is warming up. It made me go back and watch this clip. I love the ending sunsets over the lake. (I just fast forward past all my talking bits urgh!) For me it's such an awesome way to spend a hot afternoon, splashing about, sitting under the trees looking out across the lake, enjoying a drink and a chat with friends while we relax and watch the sun set.   Bring it on. 🙂  It will be our last chance to ski as after this summer it will be to salty and will go dry again, until the next flood.
Tuesday, 22 May 2012
by Admin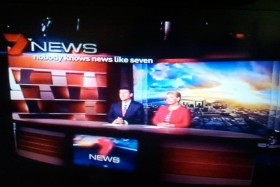 Well the weekend just gone has been a busy one, but very exciting.  Prior to the weekend I spent a whole day with photographer Colin trying to get a good photo for the Weekend Australian to go with their article.  Because his boss was very vocal about how the shot should look, hence why it took so long, we had a good idea that it wouldn't be on page 9.  So to finally get to Saturday and find this huge photo of me (and my dog Sally) along with all the covers of my book on page 3 was beyond amazing. I don't think I realised just how cool and a big deal it was, until I saw it. By the time he took this photo, I was totally out of smiles and doing a grimace while I squinted in the arvo sun. And my lovely Sally dog had a big sore on her face by her ear, which I'd
Monday, 07 May 2012
by Admin
Not that long ago I blogged about the film crew that was in Pingaring, doing a doco for Penguin. Well it's finally finished and Andre Sawenko has done a fantastic job putting all the shots together. (Especially my parts…I didn't give him much to go on lol) So here it is, I hope you enjoy seeing where I live. After all, it's what inspired me to write. 🙂
Recent Post
February 2nd Hi Fiona, I can't believe it's Feb...

I've been a little quiet lately, but ther...

It was an Author Talk tour of epic propo...