Today, I'm very excited to have Fleur McDonald as my guest. Thanks Fleur! Her new book Purple Roads is out at the start of April and I've already spent a couple of days reading it. Lucky me! I won't go into details as I'd hate to spoil it for everyone but I couldn't put it down until I finished. (Yes, I got soooo much housework done that day…not!) And I got a little emotional in one part, but I'll let you figure out which bit. 🙂 So without further ado, I welcome Fleur.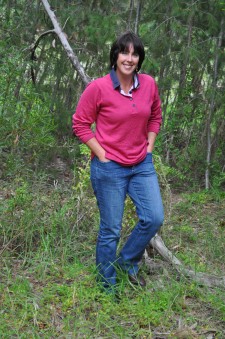 Describe a normal (which I know would be hectic) day for you?
Well The Boss is usually out the door by 6:30am at the lastest, so we're up around 5am and I'll get his lunch and make sure he's got everything he needs for the day. The kids have to on the bus by 7:55am so once The Boss has gone I turn my attention to dragging two sleepy heads from their beds, forcing breakfast into them and making sure their bags are packed. If I could have a dollar for every I've said "Are your bags packed?' and still found a lunch box on the bench I'd be rich!
From then it really depends what is going on outside; I might head out to help with lamb marking, shearing, pull a fence down, weigh lambs… The list is endless. I don't often have days at home, but I love them when I do.
What are some of the challenging farm jobs you have?
Pulling fences down for me, is the hardest job. I've got a bit of a problematic back and that job just about kills me! Of course when you're shifting sheep and you have to haul a full wool ewe into the back of the ute, that isn't easy either.
I've found since I had kids, I'm not as strong as I used to be so it's the lifting I have hassles with. Doesn't mean I can't do, just means I need to work smarter and not use brute strength and ignorance, which is the method I usually prefer!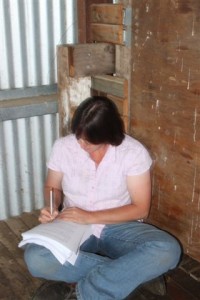 I love this photo of Fleur. This is where I picture her editing, in the corner of a dirty shearing shed, or in the farm ute, or bouncing around in the chaser bin at harvest time.
Could you list some of the more yuckie thinks of farming? (people wouldn't believe half the stuff farmers do like pulling out lambs, moving dead sheep etc? Have you got some good ones Fleur?)
I think the worst job I've ever had to do is Semen Catching. Oh yeah, laugh all you like and don't bother with the jokes, I've heard them all before! As a stud breeder, you have to make sure any ram or bull you sell is fertile. For bulls, this means we 'milk' them – getting them to ejaculate into a jar and then the vet looks at the semen with a microscope. There is 'something' about being down on your knees in the dirt, with a jar, underneath a one tonne animal waiting for it, well, you know. And it's not a good 'something'!
But yeah, then there is the usual of pulling dead lambs out of ewes, pulling sheep out of dams and the hot, dusty days in the sheep yards, when we come out looking like a dirt monster. But it's the sunrises, sunsets, gentle rain, new born lambs and calves that make all the horrible things not rate a mention!
(When I was a rousie I'd have to clean up the 'mess' on the floor so it didn't get into the wool. It could be poo or blood or both. You really scrubbed your hands good after each day lol)
When you were young what things did you dream about doing?
Being a singer. I think that was the main one. (That was never going to happen…) I wanted to be a physio when I was in Year 11 but I knew I wouldn't be able to get the marks and the pull home to Glenroy (our station) was too strong. I love that place with all my heart and it's where I set my first book, Red Dust. Not sure how I ended up here in The West, really…
If you could travel anywhere where would you go and what would you do?
I want to go to Italy and eat! I'd love to go to Yorkshire and see where James Herriot set all of his books – I've got a desire to walk along the wild moors, he wrote of, with the wind whipping around my body, feeling the icy air and maybe even see the snow. And I want to go and visit my home much more than I do. At this stage I only get back to SA once every couple of years. I've got a brand new niece I want to meet, so I'm desperately trying to get back there soon.
Growing up in the country in SA, what did you get up too? Were you an out doors kid?
Oh yeah, I was never inside. I was always up a tree or on the roof, reading, on my bike, playing sport or causing mischief somewhere. There's a train bridge on the outskirts of Orroroo and I used to ride my bike down there and walk across it. I don't know why, when the track hadn't been used in years, I'd get half way, always hear a train and freak out! I never made it all the way across, just turned and ran back from where I came, when I thought I heard the whistle!
I spent a lot of time in the trucks with Dad too. My parents owned a fuel distributorship based in Orroroo but our deliveries covered about a quarter ofAustraliaso we'd be gone for a periods at at time. I loved the time I spent with Dad and the country I saw. One of Dad's favourite tricks was to ask me if I wanted to go on a run with him, during the week. Of course I'd jump at the chance, but Mum would shake her head and say, no, I had school. Later Dad would swing past the school and pick me up and we'd take off together. He'd ring Mum from the closest phone box and make all sorts of weird faces as he pretended Mum was getting stuck into him. I don't think she ever did; she knew him too well!
(I was like you Fleur, I spent a lot of time in my dad's trucks doing trips to Perth taking grain and coming back with fertilizer. Loved it)
Living in the country we don't get to the city that often. What are some of the things you like to do when you get there? (Fast food is usually our treat lol)
Yep, takeaway and book shops for me. I love being able to go to the Food Courts and chose anything from Pizza to Asian to Hungry Jacks.
It's always such a treat to be able to walk into a large book store and see books everywhere. There is so much more choice in the city for both kids and adults. I can spend hours just searching the shelves for new new authors, old favourites and see what is new.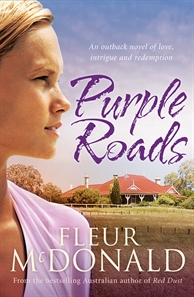 You have just started working on Silver Gums. Can you give us a sneak peak of what we might expect?
Silver Gums is set on theNullarbor Plain, one of my favourite parts of the country. Tessa is a wild child with a checkered past. She's been sacked from her high powered job and, with no where else to go, she heads back to the station she grew up on. But she is consumed by guilt and has many demons chasing her. Poor Tessa has a lot to work through!
Oh, great can't wait for it Fleur. It's a shame it takes so long to write a book. We spend a whole year geting it all ready and then its read in a day or two at most. 🙂
Now Fleur has generously offered a signed book, so please leave a comment to be in the chance to win it. Maybe you could tell us what things you got up to as a kid? I'll draw the winner on the 20th March. 🙂