This time i'd like to share Lisa Heidke's writing spaces. She's the lovely author of What Kate did Next, Claudia's Big Break and Lucy Springer Gets Even. (I'm sure she's busy writing away on her next book, no doubt using the area's below)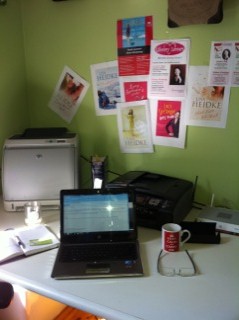 Lisa: "This is where I work when I have to…in other words when I have a deadline and have to put my head down. No distractions! I light a candle, drink tea and type as quickly as I can…so I can go back outside and into the sunshine."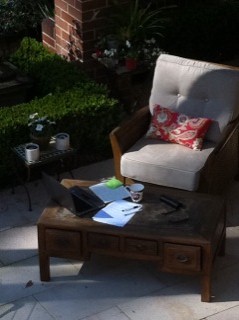 Lisa: "This is where I pretend to work when I'm brain storming – which generally means I'm procrastinating because I'm stuck on a scene or have hideous edits to work through. In other words, I am avoiding doing any real writing. It's happening a lot at the moment as I chase the spring sun around the garden…laptops have a lot to answer for!"
***
And another author who is busy with her next book is Bronwyn Parry, who brought us great Aussie romantic suspense with Dark Country and As Darkness Falls. I'm so glad you're back writing again Bron!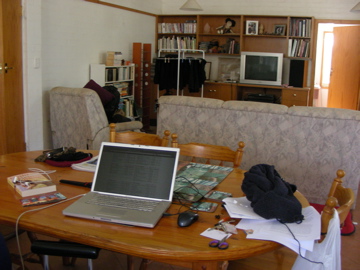 Bron: "One photo is of the dining table, where I work most nights and on cloudy winter days. The other is the old desk in the sunroom, which is a lovely spot to work in on sunny winter days – although I can be distracted by the blue wrens outside the windows, and the kangaroos that often come up quite close, munching on the grass."
***
I love how most of us have our little window's or outside places to help inspire us. Most of my idea's come when I'm out doing something 'in the bush', like the mail run or just driving from one town to the next.
Now if you'd like to join in with our writers spaces, please feel free to drop me an email. I'd love to hear from you. No two 'writing spaces' are ever the same. We all have our little 'bits' that make our desk's our own. 🙂