Sunday, 06 May 2012
by Admin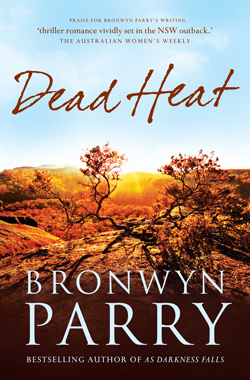 I've been wanting to read and review a book for Australian Women Writers challenge for a while now, but everything I've read has been in my own genre or not relevant. So when I finally had time to pick up Bronwyn Parry's new book Dead Heat, and finished it in record time (due to the fact I couldn't put it down), I realised it was one that fitted perfectly for AWW challenge. A big fan of Bron's earlier books As Darkness Falls and Dark Country, I knew I would enjoy her third. I've had the great pleasure of meeting Bron, who is lovely and generous. I was delighted to know that after recovering from brain surgery she was back into writing and so it's wonderful to see Dead Heat on the shelves. Good on you, Bron! I couldn't put this book down. I loved Jo. Such a strong woman,
Wednesday, 21 September 2011
by Admin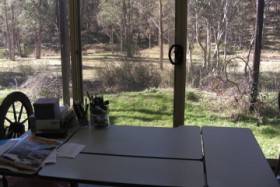 This time i'd like to share Lisa Heidke's writing spaces.  She's the lovely author of What Kate did Next, Claudia's Big Break and Lucy Springer Gets Even. (I'm sure she's busy writing away on her next book, no doubt using the area's below) Lisa: "This is where I work when I have to…in other words when I have a deadline and have to put my head down. No distractions! I light a candle, drink tea and type as quickly as I can…so I can go back outside and into the sunshine." Lisa: "This is where I pretend to work when I'm brain storming – which generally means I'm procrastinating because I'm stuck on a scene or have hideous edits to work through. In other words, I am avoiding doing any real writing. It's happening a lot at the moment as I chase the spring sun around the garden…laptops have a lot to answer for!" ***
Recent Post
February 2nd Hi Fiona, I can't believe it's Feb...

I've been a little quiet lately, but ther...

It was an Author Talk tour of epic propo...