Today Mandy Magro is here to tell us about her journey writing Flame Tree Hill. Cancer is something we are all well aware of and it has also, no doubt, touched each of us through family and friends at some point. So tackling this subject in her next book wouldn't have been an easy task. Especially when based on your close friend. (Shares in Kleenex, I'm thinking 🙂 )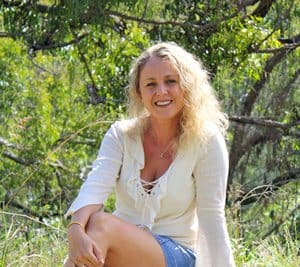 Writing Through the Tears
G'day Fee,
Thanks for inviting me onto your blog today. I'm thrilled to be sharing the inspiration behind my third novel, Flame Tree Hill.
Flame Tree Hill is of course, fictional, but it is also heavily based on my best mate's, Joanne Jackson's, breast cancer journey. Jo has battled breast cancer not once, but twice!!, and has survived. She is an amazing woman with an inspiration story that needed telling. So, with her approval, I delved into her world through her diaries that she kept throughout her heartbreaking journey. And boy oh boy, was my keyboard quite often covered in tears! And it's hard to type when your vision is blurred too, I might add!
As a mate, I was there throughout her cancer, but never did I know the darkest emotions and terror my beautiful Jo had felt. It was only in her diaries, did she let everything spill from her heart and mind, and when reading what she went through, mentally, physically and emotionally, it tore my heart to shreds. I just hope that I have given her story justice in Flame Tree Hill. And I reckon it's going to be one that the readers will need a box of Kleenex, or three, beside them as they read.
But, it's not all going to be sniffles, with Flame Tree Hill also having many laugh out loud moments combined with the beauty of a deeply moving love story. I'm hoping it will tick all the boxes for my readers.
I thoroughly enjoyed writing Flame Tree Hill, even though I shed enough tears to fill the ocean as I did so. It is a novel that will always remain very close to my heart and one that I hope can reach out and touch the people that are either going through cancer, supporting someone with cancer, or have sadly lost a love one to this terrifying disease. Lets just hope and pray they find a cure soon.
Mandy xoxo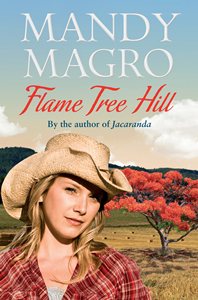 Kirsty Mitchell is ready to come home. After a tragic accident that left her scarred, she fled overseas. Now, three years later, she's finally returning to Flame Tree Hill, her beloved family farm. But at twenty-five Kirsty isn't prepared for the terrifying new challenge ahead: breast cancer. Kirsty's never been a quitter and that's not about to change. But can her budding romance with local vet Aden bear the strain? As she battles with chemotherapy and as her past threatens to overwhelm her, Kirsty realises you can never take anything – or anyone – for granted. Drawing strength from her family and the beauty of Far North Queensland, Kirsty finally understands what she must do.
"A lyrical and heart-warming testament to the power of love – and forgiveness."