My next guest on Writers Whereabouts is the lovely Helene Young. I have her latest book Half Moon Bay in my hands finally and today is a perfect day to start reading it. (it's raining outside and the fire is going) I'm a big fan of Helene's writing and can't wait to open the pages. We are both published by Penguin and share the same amazing publisher but we live on opposite sides of Australia. (and Helene's new home would make me rather green.) But I'd still give it a go just to see all those wonderful sunsets over the water. 🙂 Thanks for stopping by Helene. x
Whereabouts is Helene Now?
Fiona, thanks for having me on your blog to chat about my current whereabouts. Life's been pretty exciting recently for us as we've moved from a house to a catamaran called Roo Bin Esque. My husband's taken to calling us Grotty Yachties… Nothing grotty about this sailor!
Probably the best part of that move (and downsizing was the hard part) was the journey north from Brisbane to Cairns. I knew the coastline was amazing as I fly over it regularly with my day job but I was blown away. We live in an amazing country. I thought I'd share some of photos of our new life afloat – including Zeus's take on the world!
Roo Bin Esque is a Lagoon 400 Catamaran, which means she's a 40 ft boat with three bedrooms, two bathrooms and a dinghy out the back – a bit like a tiny modern apartment! Here she is anchored of Mooloolaba.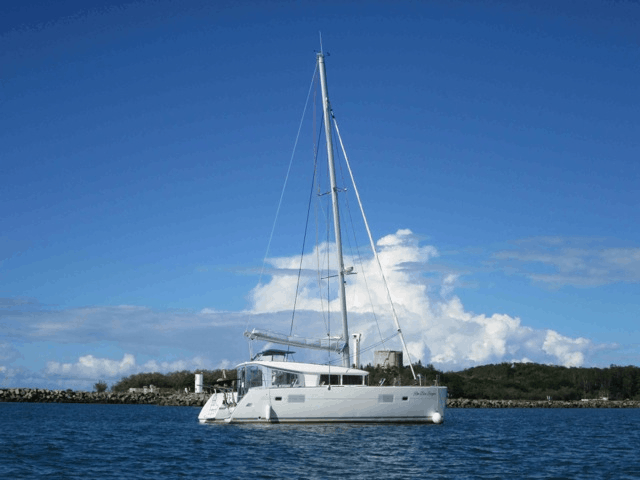 I don't have a writing space as such anymore, but I do have a choice of indoor or outdoor table. It gets a little glary outside so on a sunny day inside works best. I still have an amazing view so I don't complain 🙂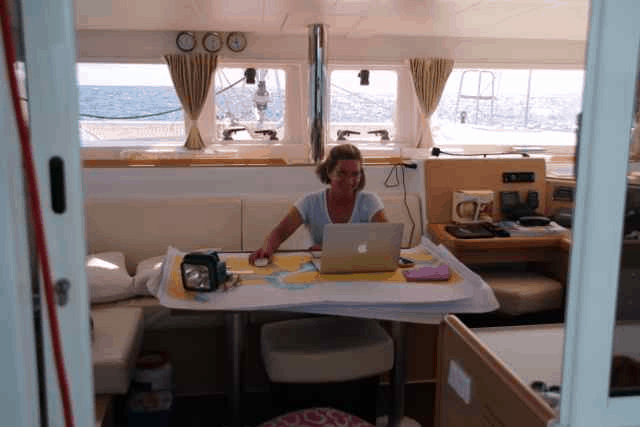 Probably the best view from the boat is from the top of the mast. While I don't plan on doing that on a regular basis I did have to go aloft twice just after we bought the boat to fix damaged rope on the mainsail. It was exhilarating and a little unnerving dangling on a rope 25 metres above the water!!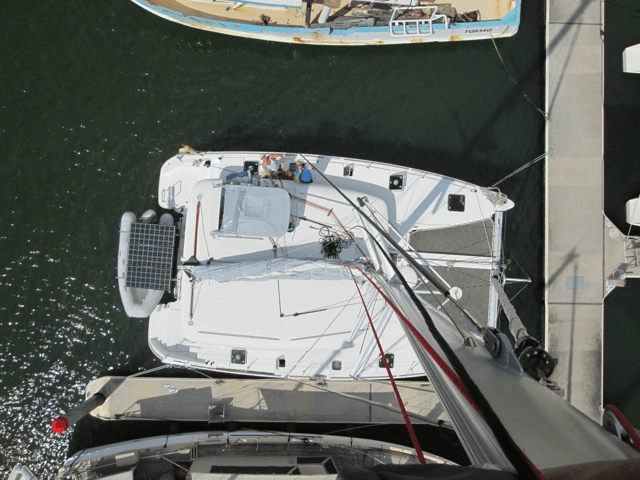 I've always been a lover of sunset and sunrises and one of the beautiful things about the journey north was having the time to enjoy them every single day. I drove Capt G mad taking photos, but here are my two favourite shots from the trip.
The first one is sunrise at the Percy Islands. What do you think?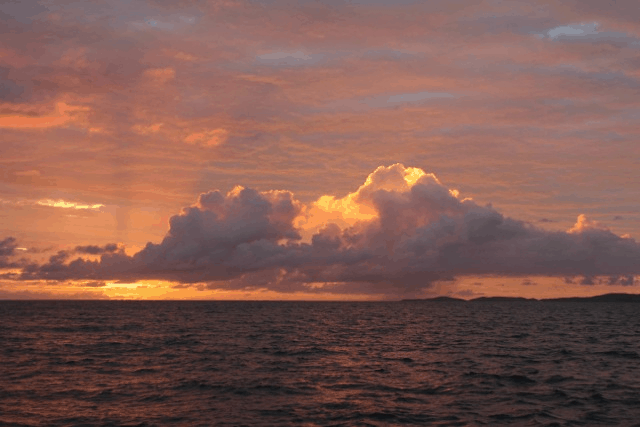 I had a hard time choosing the sunset, but I've gone with the one over Cape Grafton mainly because it was a day filled with mixed emotion. It was almost the end of the journey. I was excited that home was just around the corner and we'd had a safe and successful journey, but I was also a little sad that our adventure was coming to an end.
We've had a month in our new neighbourhood now and we've settled into the rhythm of marina life. Our neighbours are endlessly interesting and someone's always up for a chat. This is the view off the back deck – couldn't resist another sunset 🙂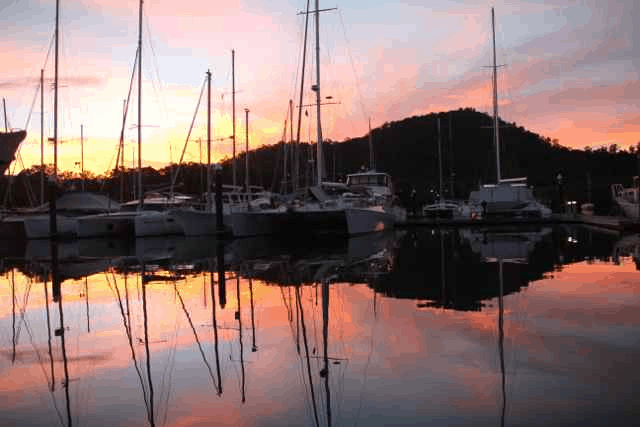 It's an ever-changing community as boats come and go heading off on new adventures. One day we'll join them, but for now Roo Bin Esque is bobbing at her mooring and Zeus, the salty sea dog, is doing what he does best in his retirement – sleeping!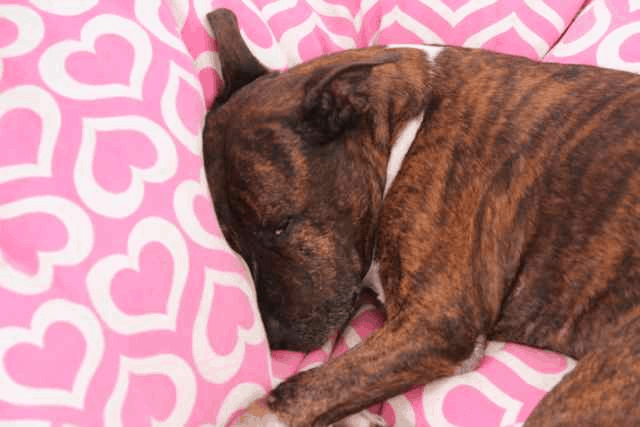 You can find the crew of Roo Bin Esque at http://www.heleneyoung.com.
Follow us on Face Book at : https://www.facebook.com/HeleneYoungAustralianAuthor
And occasionally find us tweeting at : https://twitter.com/HeleneYoung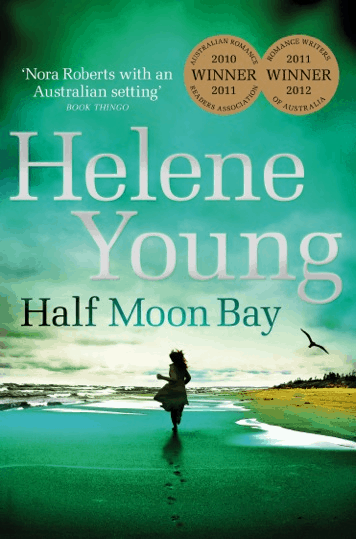 Back Cover Blurb for Half Moon Bay 2013
Ellie Wilding has been running from her past, but when the residents of Half Moon Bay call for help she knows it's finally time to return home. As an international photojournalist, she's used to violence in war zones, but she's shocked when it erupts in the sleepy hamlet on the north coast of New South Wales, threatening all she holds dear.
Battle-weary Nicholas Lawson walked away from his military career leaving unfinished business. In a coastal backwater, that decision returns to haunt him. He remembers all too vividly his last lethal assignment in Afghanistan when Ellie's sister, Nina, was shot and killed. Ellie's been in his dreams ever since, even if she doesn't remember him…
As a storm rages and floodwaters rise, Ellie struggles to save her community. But who can she trust? Nick Lawson, the dangerously attractive stranger with secrets, or an old friend who's never let her down?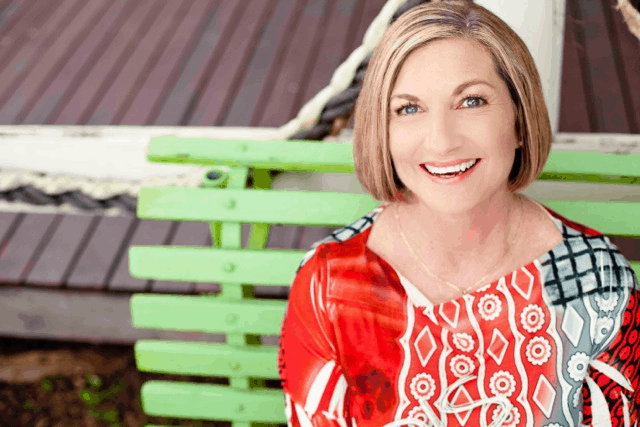 Multi-award winning author, Helene Young, lives aboard a catamaran moored near the Great Barrier Reef in the Coral Sea. She shares her sailing adventures with her husband and their dog, Zeus. Her work as a senior captain with a major regional airline takes her all over Australia and she draws inspiration for her stories from the communities she visits.
She won the Romance Writers of Australia (RWA) Romantic Book of the Year Award in 2011 and 2012. She was also voted most popular romantic suspense author by the Romance Readers of Australia (ARRA) in 2010 and 2011, and shortlisted for the same award in 2012.
Helene is also the custodian of several thousand bees and in what spare time she has left, loves to read and travel.