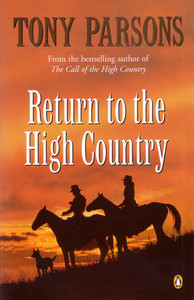 Being a big fan of rural/outback books, I, like many others, have Tony Parsons' books in my bookshelves. The Call of the High Country, Return to the High Country, Valley of the White Gold and Silver in the Sun. I was talking with friends on facebook about what Tony was up to as we hadn't heard from him in a while….surely a book must be close? So I contacted Tony and we had a chat! Firstly, I let him know I was also an author with Penguin and we had the same publisher and secondly – and most importantly- that I had all his books!!
He was happy to chat with me and I was amazed to find out he would be turning 80 in a few months!! So of course, being a fan, I asked him what he was working on. Tony has just finished a 700 page book called "The Kelpie" his biggest dog book yet. It is his forth Kelpie book and is published with Penguin, due for release in September this year. For those who didn't know Tony is a bit of a legend in regards to the Kelpie dog. He established "Karrawarra" one of the top breeding kelpie studs in Australia. He was also awarded the Order of Australia Medal in 1992 for his contribution to the propagation of the Australian kelpie sheepdog. I have a kelpie also and love her to bits, she's so clever.
He has since passed on his stud of Kelpie dogs so they will continue on. (I also found out from Tony that a bloke not far from me in Wagin has his Kelpies, so I will be checking them out next time I'm at the Woolorama!)
Tony is very proud of his book "The Kelpie". He said it is full of great colour photos, has a vet section as well as little stories about the working Kelpie. All his other kelpie books are out of print and can fetch a penny or two on ebay.
As for another novel, Tony has written one which is currently with Penguin and he's hoping to hear from them soon. Not bad for a bloke who's nearing 80! I asked him what he likes to read and he said Hemingway, and a few others but he doesn't read while he writes in case it alters his writing.
Well that was about it for my chat with the great Tony Parsons (although we may have strayed on dogs for a while and chatting about our publishing house!).
We will have to keep an eye out for his fifth book!
Big thanks to Tony who gave me his time, all the way from QLD to WA. Cheers mate.