I've decided to do a few blogs to showcase some amazing rural locals. I love the fact that even though people live in rural communities, far from everything, they can still do amazing things. One of my first blogs is on Tania Spencer. How cool is this little guy below? And then there is the huge snake she made, my kids love that one.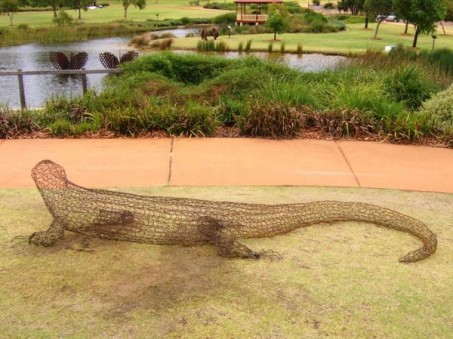 Tania lives and works rurally from Lake Grace, Western Australia. (Just up the road from me, 60km) Although currently working with wire, Tania is a mixed media artist and often works with recycled and found materials. While her work is deceptively simple in its form, the underlying social or environmental context, constantly questions our state of existence and awareness. Tania creates large scale knitted installations with fencing wire and embroideries of different wires couched onto metal supports. Her tools are drills and hand bending jigs instead of needles, wire instead of yarn. Have a look here and see just some of the amazing large creations Tania has made. Farmers are always working with wire so to see it in this form is brilliant.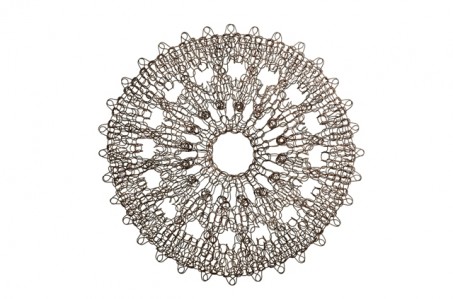 I asked Tania about her work and her favourites.
"My favourite work is always the one I've finished! That is until I build the next one! I've just completed a 9-metre piece for a private commission and that was really great to see it finally installed and the happy reaction of the client. Sometimes think the best bit about creating art is the actual building of the work, but then when it gets out there into the public arena, it is really great to see people interacting with and responding to my art.
I like to do things that are quite abstract in their concept like describing an emotion or a social or environmental issue so my sculptures are not usually representational and so people really have to think about what it is I'm trying to say with the work or they can equally appreciate the work for the beauty of the form or the construction techniques on a surface level.
Mostly I use textile techniques like knitting or weaving and some basketry skills to create art, but with a bit of a country twist I use farm materials like fencing wire to knit or embroider with. For other projects and for teaching classes I use recycled materials like plastic bottlles, cooldrink cans and used powerline wires."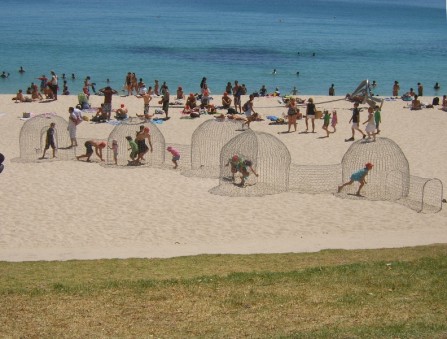 Here is more on Tania's achievements.
Tania has a Bachelor of Arts (Art) from Curtin University and has participated in numerous art events including the Melville Art Awards, winning the 2006 Overall Judges Choice, the City of Melville Sculpture Walk (2007 and 2008), Castaways Sculpture Awards 2007, 2010-11, winning the Castaways Alcoa Major Sculpture Award in 2010. She is a seven time exhibitor with Sculpture by the Sea, winning both the NAB WA Sculptors Scholarship and Kids Choice at at Sculpture by the Sea, Cottesloe in 2008. (How amazing is that!)
In 2009 Tania was commissioned to create a sculpture at Northcliffe, WA, for the Southern Forest Sculpture Walk, now renamed Understory-Art In Nature. She has exhibited in Mine Own Executioner, the Bunbury Biennale 10 Year Retrospective in 2011 and in Safekeeping at the Perth Town Hall in conjunction with the National Trust for National Heritage Week in 2012. Recent national exhibitions include Love Lace, The International Lace Award at the Powerhouse Museum, Sydney and Sensorial Loop, the 1st Textile Triennial in Tamworth, New South Wales.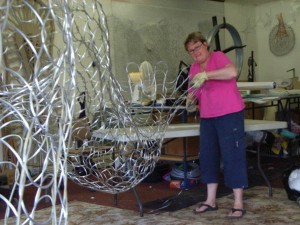 She has had three solo exhibitions in Western Australia: Seeking Insight…Unity? (John Curtin Gallery, 2007); Searching (Kalgoorlie Mining Hall of Fame, 2008) and Introspective – Works from 2006-2008 (Painted Tree Gallery, Northcliffe, 2009). In 2011 she was awarded a Clitheroe Foundation Mentorship to work with Brian McKay and an Artstart Grant by the Australia Council .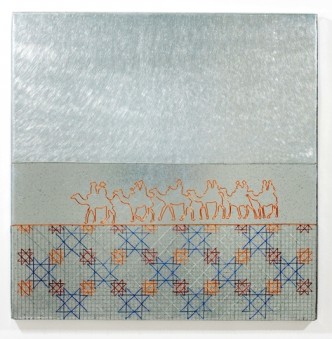 And very importantly Tania is the co-owner of the Lake Grace Multi-Artspace, a community run artist gallery and workshop that was established to promote wheatbelt artists and deliver innovative arts experiences in a regional capacity; she holds workshops locally and is on the commitee of the Lake Grace Artists Group. (How lucky is the town of Lake Grace to have these wonderful artists and opportunities locally!)
A huge thank you to Tania and all the best for your future artworks!