Monday, 02 September 2013
by Admin
I just had to go for a walk this morning. Such a gorgeous day. Could hear the bee's and flies buzzing and the ants were all out and busy.  It was a perfect way to start the day and Sally my dog was really happy for the walk.   (come on mum, hurry up!) The crops are looking great around our area which is wonderful to finally see. We all have our fingers crossed for the season to end well. You don't count your chickens until the grain is in the bin! Nearly 14 rows on this head, but no grain yet. Hopefully when the grains begin to grow the frosts stay away. I just had to stand in this crop and see how tall it was. I was being careful to stand in the rows so I didn't crush any. 🙂 Call me a crop Gnome! Being away at Dowerin for nearly four days was
Thursday, 04 July 2013
by Admin
This month Booktopia are celebrating Romance for Australian Authors.  Each day they will feature an Aussie Romance Author on their blog. Today its Anne Gracie anwsering the ten questions.  There is a fantastic line-up of Australian romance authors, including plenty of other rural-set fiction authors like me across the month so stay tuned. You can read my answers to those questions on the 7th July (Sunday). Now there are prizes for the Author and the Reader this month too. The author with the most sales in July will win a review on Booktopia's blog and a pair of diamond earrings from ICE! So if you were thinking of buying one of my books, or getting a few for your bookclub in the next few months, nows the time to do it. Here are the links: The Family Farm 17% off Heart of Gold 17% 0ff The Road Home 17% 0ff The Sunburnt Country 33% off Your chance to WIN! Any order for an Aussie Romance
Tagged under:
Anne Gracie
,
ARRA
,
Australian Romance Author
,
Australian Romance Month
,
Barbara Hannay
,
booktopia
,
Bronwyn Parry
,
Cathryn Hein
,
Dowerin Field Days
,
fiona palmer
,
Heart of Gold
,
Helene Young
,
Jenn J McLeod
,
Jennifer Scoullar
,
Loretta Hill
,
Mandy Magro
,
Margareta Osborn
,
Newdegate Field Days
,
Nicole Alexander
,
Rachael Johns
,
Rachael Treasure
,
The Family Farm
,
The Road Home
,
The Sunburnt Country
Friday, 29 June 2012
by Admin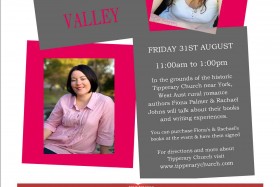 I haven't been blogging much lately as I've been rather busy.  With winter sports on I feel like I spend most of my time in our car, driving 60km to town so son can play auskick one day and then another trip for our hockey training. Then come weekend its off to which ever town we are playing, this weekend it's against Bruce Rock which is just over an hour and a half trip to get there. I don't add up my time spent in our car….I think the total would scare me!! And in the country it's not just me doing it, everyone travels. I do have some guest blogs coming up with new rural authors Barbara Hannay and Jennifer Scoullar, also Helene Young with her thrid book Burning Lies. Will be great to hear more from these wonderful ladies. Now some details on where I will be in July. For
Recent Post
February 2nd Hi Fiona, I can't believe it's Feb...

I've been a little quiet lately, but ther...

It was an Author Talk tour of epic propo...