Finally we are back from travelling all around. We visited sunny QLD with an quick stop at the Gold Coast to see Movieworld. A treat for the kids (and us). Only problem was my six year old son begging me to go on the Scooby Doo ride! Heck, I never would have gone if i'd known. Lets just say he handled his first major rollercoaster ride better than I did. He was begging for another go…strangely there were no takers.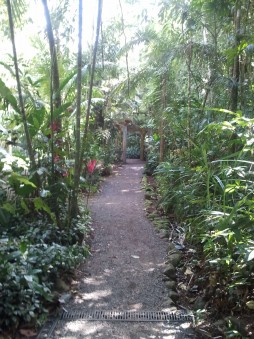 We then flew up to Townsville to stay with my brother, sis-in-law and my two gorgeous nephews. Loved being back in shorts!! We borrowed their car for a few days and went for a drive up to the Daintree. It was so beautiful…i'm a rainforrest kinda girl. Totally loved the green…didn't love carrying our 8year old everywhere due to a badly twisted ankle before we left. (We tried to think of it as weight training…although hubby did most of it. Some of those forrest walks are hard enough lugging my own body around.)
Next we headed down to Melbourne. (Wish I had frequent flyer points!!) The main reason for our trip was so I could attend the Romance Writers of Australia Conference.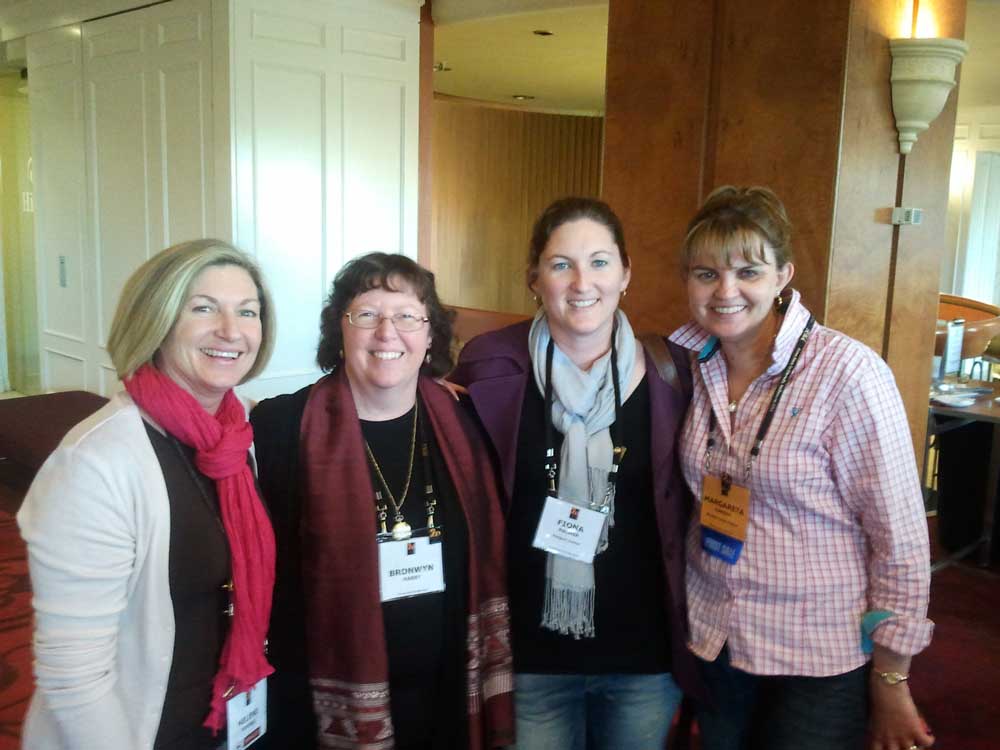 Here is Helene, Bron, myself and Margareta. I couldn't wait to meet these ladies. I finally got to meet Margareta in person. A wonderful lady who I connected with instantly. Her first rural book will be out next year called Bella's Run. Keep an eye out for it.
It was great to see Bronwyn Parry, and Helene Young again.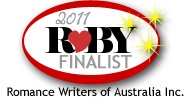 I'm delighted that Helene's first book WINGS OF FEAR has been awarded the Australian Romantic Book of the Year(R*BY) award, run by the Romance Writers of Australia. Her fellow finalists in the 'Romantic Elements' Category were Dianne Blacklock and Monica McInerny.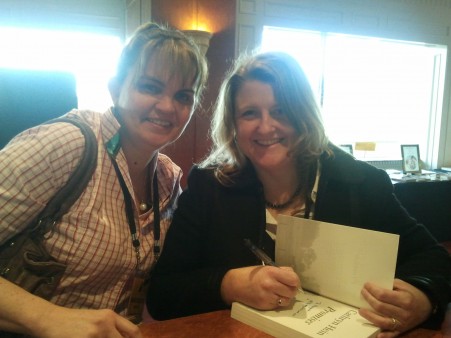 It was a great time to catch up with the lovely ladies from Penguin, and I got a chance to chat edits with Ali. So much nicer to discuss in person. I wouldn't be where I am now without the fantastic support from Ali. (I am soooo lucky)
I meet Kathryn Ledson, who has just been signed up by Penguin and Cathryn Hein who had pre-release copies of her new book Promises available. Yes, I grabbed one and got it signed. I'm reading it and loving it. It's out in the next few weeks so make sure you add it to your tbr pile.
I meet so many wonderful, generous, friendly ladies at the conference and i'd love to mention them all. Especially all the tweet friends i've made and can now put faces to. It's so exciting to share the excitement of first sales, like my fellow WA buddy Rach.
Here she is receiving her 'first sale' ribbon.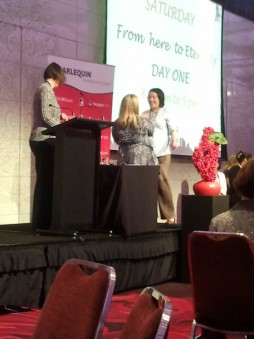 So you could imagine the amount of catch ups, book talk, publishing talk, everything under the sun talks…I lost my voice on the last day of the conference. 🙁
But we were also there for sessions…not just the networking. (I think a lot of us just wanted to spend the day drinking coffee and talking…there was just not enough time to catch up with everyone. 350 people!) I sat in on many sessions from Bob Mayer and Susan Wiggs, to listening to wonderful speeches from Marion Lennox (who had us laughing) and Jane Porter (who gave an emotion speech that was really beautiful).
I really loved meeting Kelley Armstrong and found her session really helpful as I have a first draft YA book already done and plans to get back to that one day when my busy life lets me…or I let myself.
The conference was the best four days and it was hard leaving all those wonderful friends. But I am looking forward to it again next year, this time on the Gold Coast and in 2013 – Perth!!! Home court advantage 🙂
But for now the edits have arrived just this morning for The Road Home. So I will hide myself away trying to get them done…in between spending next week at the Dowerin Field Days mind you.