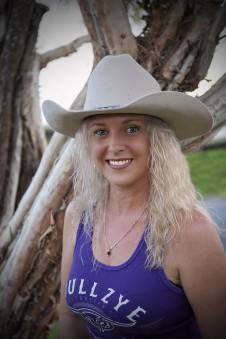 Today I have Mandy Magro, a fellow Penguin author and rural writer, here to answer a few questions about her new book. Thanks Mandy for being my guest blogger today. I'm thrilled about your new book Rosalee Station. I can excitedly brag that I've already read it and really loved how you brought Rosalee station to life and the rodeo.
Hi Fiona, thanks for having me.
I'm guessing you've been to both before, can you tell us a bit about both those experiences?
I've been going to the Mareeba Rodeo since I was a young whipper snapper, only missing it the years I was overseas and I was devastated about not being able to go! I'm passionate about the bull riding and respect the courage and strength that the men need to attempt such a wild and untamed sport. I've also had a little bit to do with the bulls behind the chutes and find it so exhilarating. My experience out on a station stems from when I took a job as camp cook on Tobermory. It was an adventure I will never forget. My bed was a swag on the dusty ground, my oven was a BBQ plate and my ceiling was the infinite blue sky during the day and at night an endless blanket of stars. Chasing rouge bulls on a quad and in a helicopter was a daily ritual and I loved every second of it.
Now I know you have a gorgeous little girl and are working on the family fruit farm. Just how hard is it to focus on your writing when there are many other things demanding your interest or attention? Do you have a set time each day set aside for writing?
Sometimes I have to wonder how in the heck I achieved writing a novel, then a second one and now onto my third! My hubby is so very supportive which is lovely as he tries to give me time to write whenever he can by taking Chloe off my hands. My normal writing days are Wednesday and Friday, while Chloe is at day care, but I do try and squeeze writing in whenever I can. I'm addicted to it!
What do you enjoy doing when you are not writing?
I love going to markets, especially food markets as I love cooking with fresh ingredients. I also enjoy reading and if I'm not writing you will normally find my nose in a book.
How long did it take you to write Rosalee Station and how hard was it to get it published?
It took me six months to write Rosalee Station which I thought was quite standard until my publisher expressed her amazement at how fast I could write. I had a very straightforward road into the publishing world and for that I am very thankful. I firstly sent my completed manuscript off to Allen and Unwin for their Friday Pitch and they were very keen but taking too long to get back to me with a contract, and I am very impatient!, so I decided to send Penguin an email, pleading gently with them to have a look at it. Three days later Penguin offered me a two book contract. I will never forget the day I received the phone call. I laughed, cried, danced and squealed, it was amazing!
Did you always want to be a writer and what do you love about it?
I wish I could say yes to that question but the truth is, until I sat down to write Rosalee Station, I hadn't thought too much about it. I had always had a niggling to write, but only a minuscule one, which was lost amongst the daily grind of making a living. I did put pen to paper about 5 years ago and tried to write a crime story but after having to write a murder scene on the first few pages I came to the conclusion that thriller genre just wasn't for me.
When is Rosalee Station due for release and can you tell us about the story?
Rosalee Station is due for release on May 30th and I am counting down the sleeps!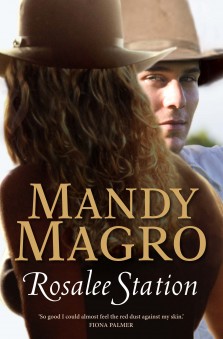 It is about a feisty but loveable woman, Sarah Clarke, and her amazing journey from her family's fruit farm in Mareeba to the wide open spaces of a cattle station in the heart of Australia. Here, in the outback, she discovers a secret that tears her world apart. Somehow, she finds the strength to stay at Rosalee Station and the choice to do so will change the course of her life forever. From the thrill of a wild bush rodeo to falling head over heels in love with a sexy cowboy, this novel takes you to places that will sometimes warm your heart and at other times make you laugh out loud.
Thanks Mandy for your time and we can't wait till your books out. So many wonderful rural books out this year and early next! Keep an eye on Mandy's website for all the details.