I'm very excited to bring you author of rural romance (with suspense) the lovely Karly Lane. Author of North Star and new release Morgan's Law. It's out now, just in time for Mothers Day!!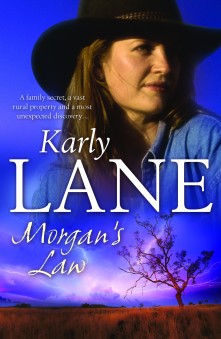 I can't wait to get my hands on a copy! As I read I can hear Karly's voice and her humour coming through the words on the page. Always a delight. Now I'll let Karly tell us about her new book……
It's really lovely to be dropping by to chat with you and your readers, Fee, about my new release Morgan's Law. Thanks so much for asking me.
Well, book two! I'm so excited to be releasing another book—but it just doesn't lose that nerve wracking, happy, sick, nervous felling that goes along with a new release coming out does it? (I totally hear you, about those nerves Karly :/ )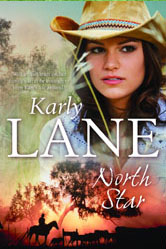 Morgan's Law is another rural community based story, and centres around Sarah Murphy who is on a rather strange quest for her grandmother, who passed away a few months earlier. It was her Gran's dying request to have her ashes returned to a small town no one in Sarah's family had ever heard of. Armed with a letter, a roughly sketched map and an old photo, Sarah heads off to Negallan in search of her Gran's final resting place.
What Sarah discovers along the way only raises more questions instead of answers and her digging around begins to stir trouble amongst a local family who are not happy about Sarah asking so many questions!
Now of course you know, being my book, there's gotta be a hunk somewhere in there and Morgan's Law is no different! Enter Adam Buchanan, sexy local farmer and Sarah's love interest. I hope you like him as much as I did! I'm not sure if I want my characters to compete exactly—but Adam has some pretty big boots to fill if he's going to size up against John, from North Star–I keep getting lots of feed back from readers that John was a favourite—so we'll have to wait and see what everyone thinks about Adam!
I really grew attached to these characters and the book touches on some really relevant issues in rural communities today. There is a serious side to this book, but there is also a touch of humour, a dash of suspense, and did I mention, a hunky farmer???!! (It wouldn't be a Karly Lane book without a touch of humour. I love books that make me smile & laugh.)
Thanks so much for having me Fee-and I loved The Road Home-another winner to add to the Fiona Palmer books on my shelf already! Well done! (Thanks, Karly! Cheers for taking out time to blog. I know how busy you are with promo right now.)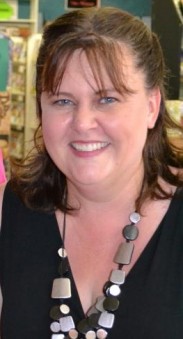 Karly Lane lives on the beautiful Mid North Coast of NSW in Australia. A certified small town girl, she is most happy in a little town where everyone knows who your grand parents were. She writes women's fiction – everything from romantic suspense to family sagas and life in rural Australia. She has romantic suspense titles published with The Wild Rose Press and Eternal Press under Karlene Blakemore-Mowle and her latest release, North Star is available now. A wife and mother of four children, working part time as a pathology collector by day, she manages to squeeze in her writing whenever and however she can. She is a proud member of the RWA Australia.