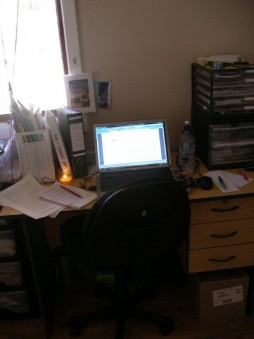 This is my little area for writing. It used to be the desk with my sewing machines on it…but they have been put into 'permanent' storage! Lets face it…I can't sew to save myself…just a few running repairs is the best I can manage.
I usually park my butt in the chair, sometimes light a smelly candle and bung on some music. Although the music has to be in the background…if I have it too loud I end up getting lost in the song…and not my characters. I have draws for ideas, my past books and future stories, RWA stuff in another and my current info next to my computer. I have a diary of the year so I can plan out the books…need to have the seasons right. Also water…if I don't have water on hand I tend to get hungry and end up side tracked by food. Writing isn't the best job for keeping fit…hence I always wanted an outside physical job so I didn't need to excercise.
We are now nearly a week a way from Christmas so I wish you all a wonderful time and all the best for the new year! I've done all my Christmas shopping so the stress is over for me. Already have a few new books to read…so i'm very happy. Also the new cover for the book should be able to be posted up soon.