Competition now closed!
I had a huge response to this competition but there could only be one…..
Congratulations to Joanna Kitto!!!! She has been notified and is one happy chick. 🙂
Thank you all for taking the time to enter. I'm now off on my week long WA tour with Rach Johns and this Wednesday is when The Sunnyvale Girls is released!! So keep a look out in your local shops. 🙂 Then in October I take off on my National tour. SOOOO excited! Tour details. Looking forward to visiting SA, QLD and VIC.
*******
To celebrate the release of my 6th book on the 26th of September I am running a competition. The biggest one yet! How would you like to win ALL 6 books!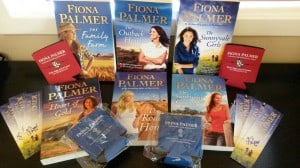 That's right. Everything you see here will be yours if you're the lucky winner. Four stubby holders, signed bookmarks and six signed books. That's a RRP of $200.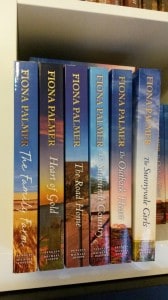 To enter all you have to do is email me at fiona_palmer@bigpond.com with COMPETITION in the subject line and tell me where you would love to travel to or your favourite desitination and why.
Good luck everyone. The competition ends on the 21st September, winner will be randomly drawn and announced on the 22nd September.
🙂 🙂