Now I don't get around to doing many reviews on books. I hardly find time to read them let alone write a review. But because it is the National Year of Reading I decided I'd tell you a bit about Julie Garwood and her book I just finished called The Ideal Man. In case you are wondering I was given this book as a Christmas present. When I opened it and saw it was a Julie Garwood book I was rather excited because many, many, years ago I fell in love with one of her books called Ransom.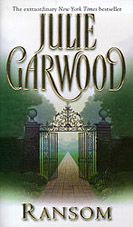 "In Ransom, New York Times bestselling author Julie Garwood returns to her beloved Highlands and the dark days of the despotic rule of King John to reacquaint readers with Scottish chieftain Brodick Buchanan, first introduced in The Secret. Brodick finds himself playing protector to Gillian, an exquisite English beauty, who is desperate to find her long-lost sister and a treasure of incalculable worth–one for which many already have died, including Gillian's own father. Coerced by the fiendish Baron Alford, who murdered her father before her eyes and usurped her birthright 14 years earlier, Gillian must return to England with Arianna's Box, a bejeweled golden box commissioned by King John, or her beloved Uncle Morgan will be tortured to death. In spite of Gillian's fragile looks and her loathsome English bloodlines, Brodick encounters a woman of immeasurable courage and determination, one not at all intimidated by his legendary temper or imposing size. And as he realizes that he has met his match in Gillian–whose sense of honor and duty equals his own–their passion for each other grows ever stronger in this thrilling historical."
Now I love castles and that era, and throw in a handful of romance and I was sold. I've had this book that long I can't even remeber if I brought it or if I was given it. None the less it's one I find every few years and re-read it. So you can imagine my delight to be given another Julie Garwood book.
Julie Garwood is a #1 New York Times bestselling author and is ranked among the bestselling and most critically acclaimed romance writers around. She's published more than 25 books and has 36 million copies of her books in print.
Although the book The Ideal Man wasnt set back in time, it still kept me interested until the end. (But I could have slapped Ellie's sister silly!) Here's a bit about the book.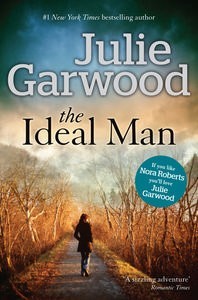 "Dr. Ellie Sullivan has just completed her residency at a large urban hospital. While jogging in a park nearby, she witnesses the shooting of an FBI agent in pursuit of wanted criminals, a couple identified as the Landrys. The only person to see the shooter's face, Ellie is suddenly at the center of a criminal investigation.
Agent Max Daniels takes over the Landry case. A no-nonsense lawman, he's definitely not the ideal man that Ellie has always imagined, yet she's attracted to him in a way she can't explain.
Ellie heads home to Winston Falls, South Carolina, to attend her sister's wedding. Shortly after she arrives, though, she receives a surprise visitor: Max Daniels. The Landrys have been captured, and she'll be called to testify. But they've been captured before, and each time the witnesses are scared into silence-or disappear before they can take the stand. Max vows to be Ellie's shadow until the trial, and it isn't long before sparks fly."
For me I love an easy to read book that can take me away from lifes chores and this certainly did that. I loved that her father was such a scrooge and would buy all this cheap stuff that didn't work and of course I wouldn't mind my own Max around to keep me safe. hmm.