One of my favourite authors is the lovely Helene Young and I'm very excited to have her as my guest blogger today. I've been lucky to have met Helene a few times over the last few years at the RWA Conferences and looking forward to catching up again in just over 5 weeks time. (yay!!) I also can't wait to get my hands on a copy of her new book Burning Lies, I have been waiting since I finished Shattered Sky for this story on Ryan. And from all the amazing reviews I've read so far, it's living up to my expectations as always. A big congrats to Helene on her third book! Here she is…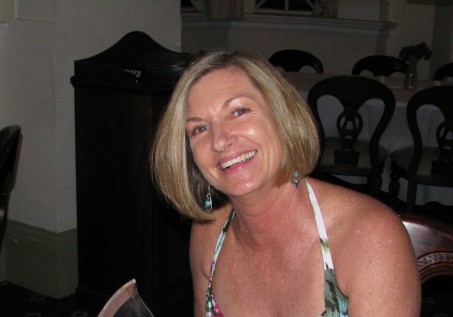 Fiona, thanks so much for inviting me to talk about Burning Lies on your blog.
This is the final book in the Border Watch series and it explores the impact of bushfires and arson on our communities. The idea started back in 2003 when Graham and I were caught down in Jervis Bay by bushfires. We were staying with friends for Christmas when high winds escalated fires, threatening nearby villages. Some of the other guests had to evacuate their houses so our friends headed off in a convoy of vehicles to collect pets, photographs and anything of value that they could.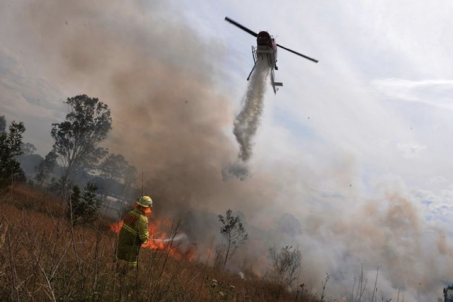 I remember feeling so helpless and ill equipped to do anything other than hold the fort. The power went out and my friend's husband, who was a navy helicopter pilot, was called in to help with the evacuations on a professional level. Embers and ash were drifting over the house and, as the area was a very heavily wooded residential suburb, there was a risk of spot fires. Looking towards the ocean the sky was clear and blue. To the west over the fires the sky boiled with billowing clouds shot through with flames. It literally looked like hell on earth.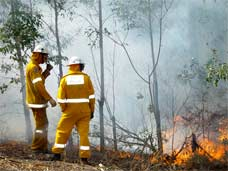 The next day, when we were due to leave, the roads were still cut. SES and Rural Fire brigade personnel stopped us at a roadblock and turned us back. I had nothing, but admiration for people who'd left their own families on Christmas day and Boxing Day to defend their neighbourhoods and communities. The level of noise from the fires was deafening and that was one of the biggest surprises for me. I expected heat and poor visibility, but the fire sounded like a dozen freight trains bearing down on us.
Several years later I had a long conversation with another pilot who had worked as a rural fireman in NSW. He'd worked with a brigade that was hit by a wave of fires. Eventually one of the guys he worked with was caught lighting the fires. That made me want to explore what motivates an arsonist to commit such a horrendous crime.
As I knew the Dash 8s had been used in the Canberra Fires in 2003 to track arsonists it was easy to weave them into the story.
Bushfires are such a part of the Australian landscape and so many of us have been touched by them. Have you had a brush with wildfires? How did you feel? Have you lost your home or worse? We'd love to hear your stories.
Find more details about Burning Lies at http://www.heleneyoung.com
Follow me on Face Book at https://www.facebook.com/HeleneYoungAustralianAuthor
Short message me at Twitter at : https://twitter.com/ – !/HeleneYoung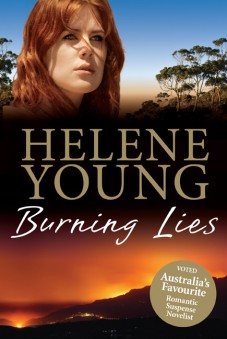 Back Cover Blurb
"Lies, all lies. It didn't matter how attractive he might be. She didn't really know this man . . . He was living a lie and she didn't know why.
"
Kaitlyn Scott is searching for the truth about her husband's death, even if that means revisiting the most painful day of her life. But what she uncovers is a criminal willing to stop at nothing to keep his secret.
Ryan O'Donnell, an enigmatic undercover cop, is investigating arson attacks when he is drawn into Kaitlyn's world. He tries to fight his attraction for her, hoping the case might put his own demons to rest, but it only threatens to push him over the edge.
With Kaitlyn and Ryan on a collision course, the arsonist seizes the chance to settle some old scores. As the Atherton Tableland burns, the three of them are caught in a fiery dance of danger and desire, and not everyone will come out alive.