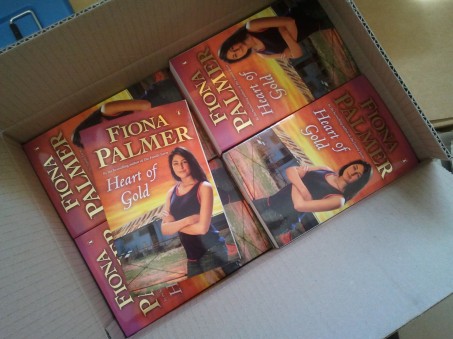 This box arrived a few days ago. I love getting new books in the mail, mine or others. Something magical about new things. 🙂 This is the B format of Heart of Gold. Its a cheaper smaller version which is going on sale at the end of February. What do you think of the bright sunset? Or did you prefer the blue skies better?
At the moment I'm close to finishing my fourth book which is called Bundara Skies, or Under Bundara Skies. (The last one might be too much of a mouthful!)
But don't get used to that name, as it will probably change. I don't have much luck with titles.
The Family Farm was called Gumlea
Heart of Gold was called The Cleanest Cut
The Road Home was called The Last Link….but only briefly…I just needed a name to save the file in lol.
But I'm not fussed on what the title is, as long as my stories can be found ont the bookshop shelves, I'm happy. 🙂