Well what can I say….it's fantastic to have another book out on the shelves and the reviews so far have certainly made my year! Here are two recent ones.
And all the comments on my facebook page are wonderful. Thank you all so much for taking the time out to comment on The Road Home or share your photo's of it. It really makes the hard slog so worthwhile. There are more reviews due in some papers and magazines in April as well as radio interviews. This is while I head to Perth for a small tour. These are my dates…
Tuesday 10th April – 12.30pm Talk Event Dymocks Hay Street & City Library.
Wednesday 11th April – 6.30pm Talk Event Dymocks Morley & Ballajura Library.
Thursday 12th April – 6.30pm Talk Event Wanneroo Library – 23 Dundebar Road, Wanneroo – more details to come.
Thursday 12th April – 11am I will drop by Dymocks Joondalup to sign a few books.
I can't wait to get to the city for some shopping time as well as meeting everyone. 🙂
It's been a busy week, as I have been trying to do one last read through on Book 4 before I send it to my publisher.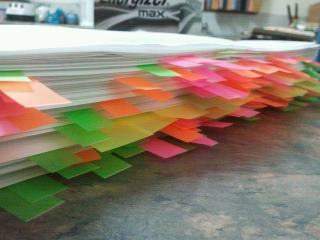 I used up two lots of sticky tags with all the changes I need to correct, but it does look pretty. Now it's time to fix them on the computer version, send them off and the contract for it is already in the mail. Then its onto book 5, which needs a lot of research. :/
In the meantime I hope you enjoy reading The Road Home. It's meant to be an easy, un-put-downable read that leaves you with a warm and fuzzy feeling. 🙂