Tony is my next author in my blog series 'Writers Whereabouts'. It's easy to see why Tony's books are so great. Look where he lives! I read his latest release Dark Heart not that long ago and I must admit it was the little gorilla who I loved the most.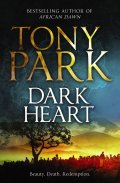 My home town – Tony Park.
Thanks for the invitation to blog about my home town, Fiona – now, I just wish I had one! My wife, Nicola, and I lead an unusual life spread across two continents and two very different environments. We spend six months of each year living in a two bedroom flat in a block of units on a six-lane highway in suburban Sydney and the remainder of the year living in the African bush, surrounded by wild animals.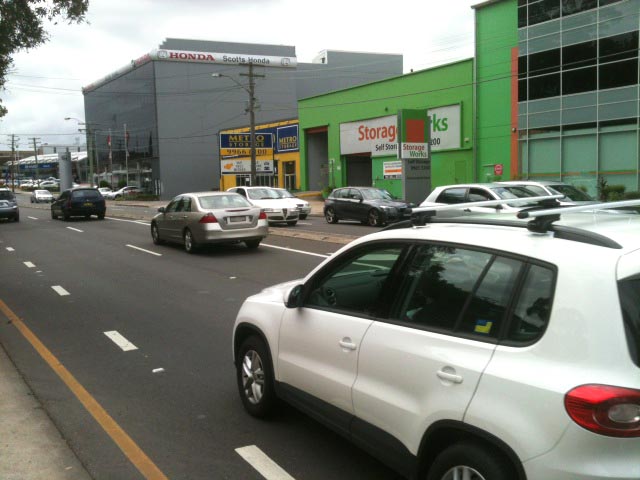 Here's the quiet street I live on in Sydney – the six-lane Pacific Highway, with
its eclectic, villagey collection of car yards and self storage places.
In both locations we're quite remote from the nearest 'town' so it's hard for us to identify with a particular community, but in their own ways they're both nice places to live. You might think that living in Sydney, Australia's largest (and, of course, best) city we'd be surrounded by shops and restaurants – we're not. Nicola and I live on the Pacific Highway at a spot that's pretty much the outer limit of four suburbs, Greenwich, Artarmon, Lane Cove and Willoughby.
Our nearest supermarket (pretty much our nearest anything) is about a kilometre in any direction. Our charming street is dotted with fetching car dealerships, self storage warehouses and, an industrial estate and, just down a quaint side street, a state of the art waste transfer facility – that's city speak for a mini rubbish tip. On the plus side we live on the backside of our block of flats and we do have a nice view out over most of the city, including the Parramatta River.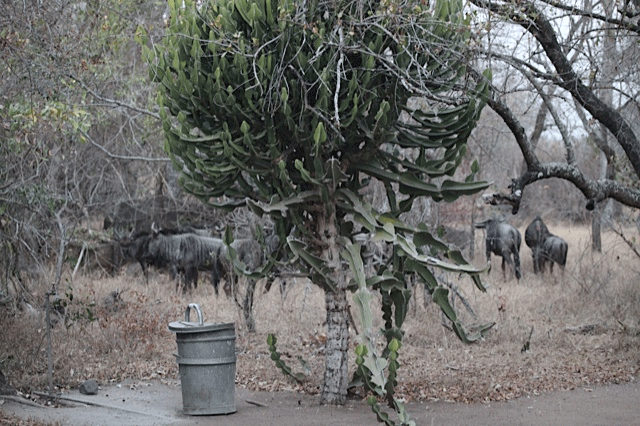 The local neighbourhood wildebeest by my rubbish bin. Garbage collection is once a week, courtesy of the baboons.
I'm actually quite envious of some of my author friends and other mates who live in country towns – they always seem to have a couple of pubs and a corner store or supermarket within a few minutes stroll of their home. There also seems to be a great sense of community in country towns, which is lacking where I live. In fact, I'm not even 100 per cent sure where I live – the electoral office says it's Greenwich, but the post office says it's Artarmon! But don't get me wrong, I love Sydney. A couple of kilometres away is Crows Nest which has some of the best restaurants in Sydney and my daily (well, every few days) run takes me over the harbour bridge and around the Opera House, or down to Balmoral Beach.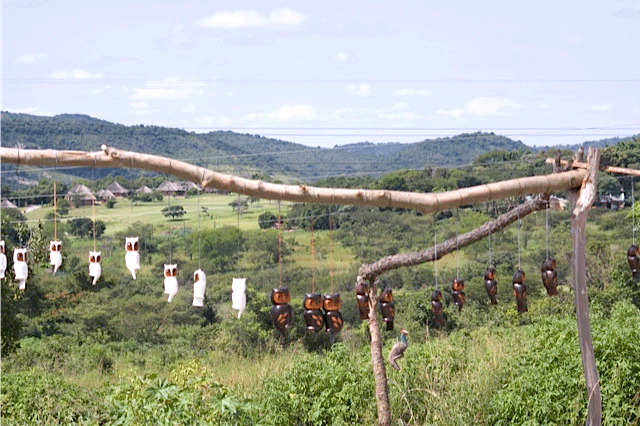 The country side around Hazyview and the Kruger Park is rolling green hills covered in plantations, farms and remnant natural bush.
For the six months of the year when we're not in Artarmon (or Greenwich), Nicola and I live in Africa. Until last year that meant spending half the year camping in southern Africa's sensational national parks and living out of the back of our Land Rover, which we keep garaged with friends in Johannesburg.
Last year, having become older, softer and marginally less poor we decided to put down some roots in Africa and buy a house somewhere on the continent. You don't hear of many people moving from Australia to South Africa, mainly because not many people do, but we bucked the trend.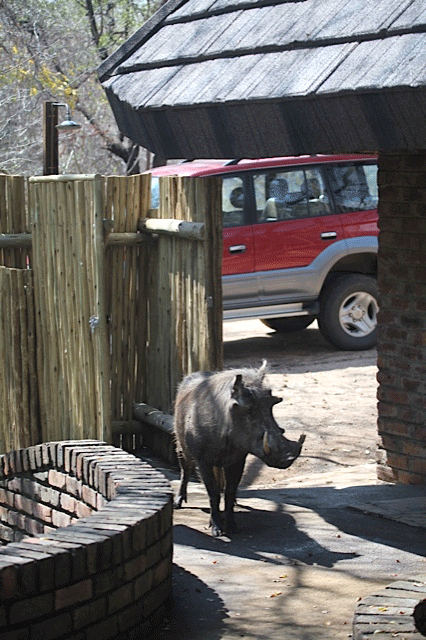 Occasionally the neighbours drop in, unannounced
The house we found (coincidentally via a gold mine manager guy who was helping me with research for forthcoming novel, "The Prey") is in a wildlife estate, which is a South African term for a bunch of houses set in a game reserve surrounded by wild animals. Our estate is on the edge of the Kruger National Park, the country's flagship reserve. Our house is on a hectare of natural bushland and while there's no fence around our piece of property the entire estate is surrounded by an electric fence that keeps the animals in and unwelcome people out.
Sit on our veranda (or, as I do, set up my infrared camera trap at night) and you can see zebra, wildebeest, giraffe, impala and even the occasional leopard wandering by. Yes, our neighbourhood cat is a leopard.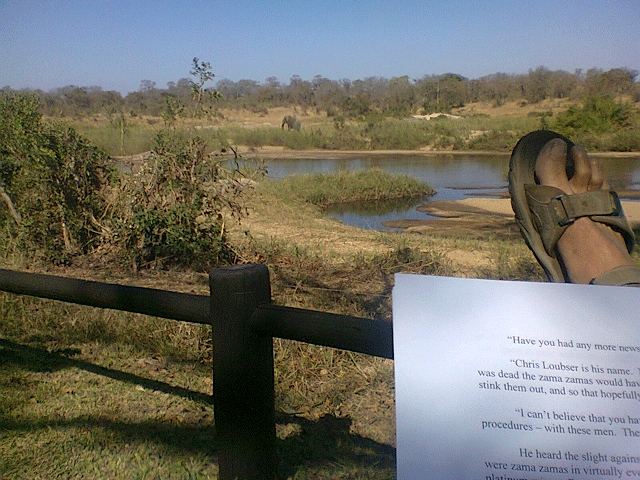 Me working near my house in Africa, down on the Sabie River, with and elephant in the distance
The Sabie River (the name means 'fear') is the border with the national park proper and acts as a deterrent to lion, elephant, hippo and buffalo crossing into our estate, although the occasional lion has been known to wander in. It's fun and exciting living there, although we don't go for too many moonlight strolls (none, in fact).
A herd of zebra trying to get into our communal swimming pool.
We still like to travel throughout Africa so when we're not at 'home' we're out camping in the bush in a national park somewhere, sleeping in the roof tent on top of our Land Rover. Our nearest shop and our post box are 12 kilometres away, inside the national park at the main rest camp, Skukuza. Prices there are geared towards the thousands of tourists who pass through daily.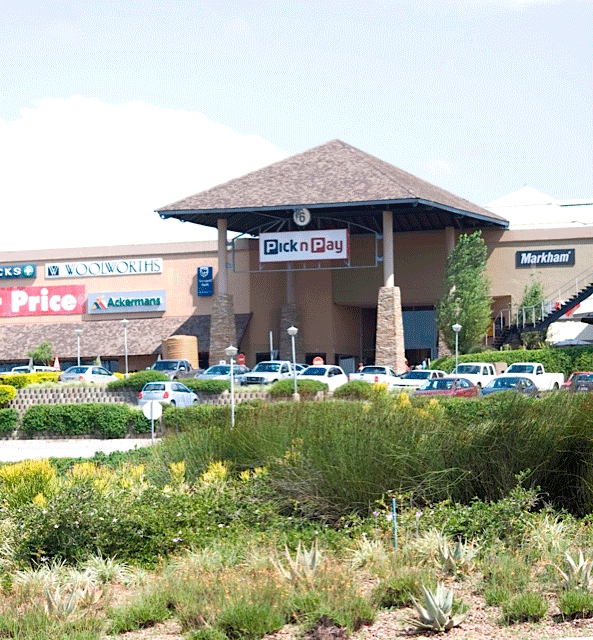 Our local supermarket in Africa, a meer 35km from our house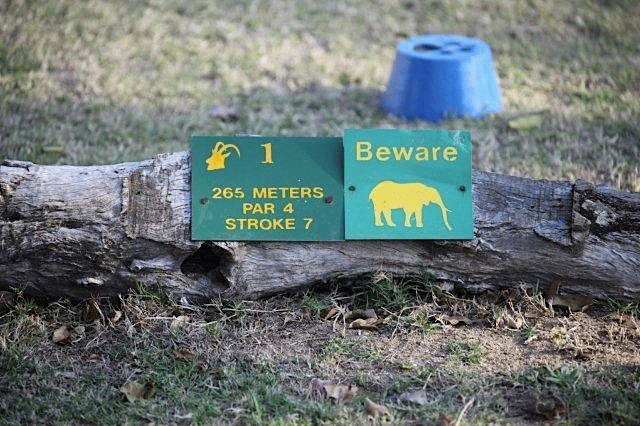 Warning sign at the Skukuza Golf Course – beware of the elephants!
There's a golf club inside the national park (imagine lions killing antelopes on the fairway – true story) which does excellent cooked breakfasts and burgers, so we often pop in there. We tend to save up our shopping for a trip to our nearest substantial town, Hazyview, which is a 35-kilometre drive through the national park, entering the park via one gate and leaving by another. It's not unusual for us to see a few of the Big Five – lion, leopard, elephant, rhino and buffalo – on a drive to the shops.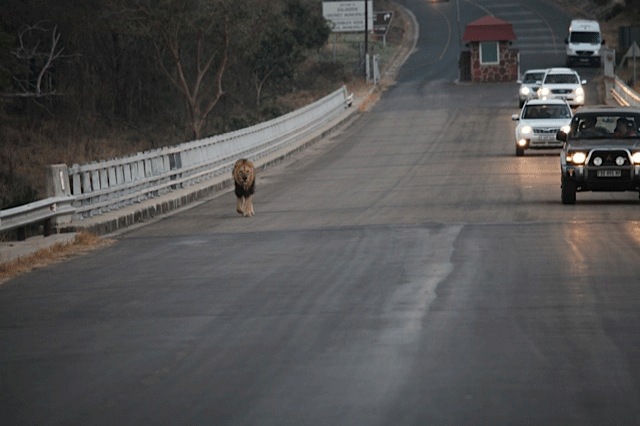 South African traffic jam – a lion at the entrance gate to the national park, adjacent
to our property (incidentally, the road beyond the open gate is the main road.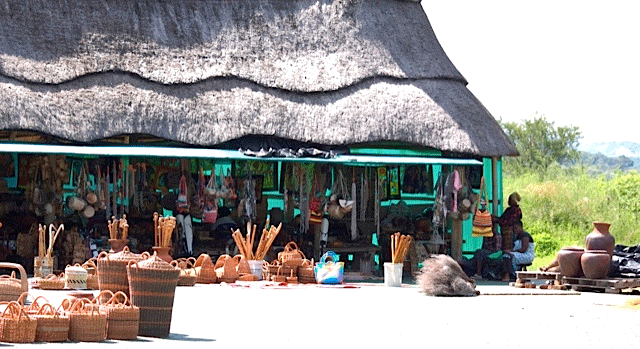 The craft market at Hazyview, aka Crazyview
Hazyview, known to locals as Crazyview, has a bit of a Wild West feel to it. There's good rainfall and rich soil in the hills around town, which support a variety of farming, including bananas, macadamias, and avocados. It's also a safari town – many of its inhabitants are rangers, safari guides and other people employed in the tourism industry.
Consequently it has more colourful characters per capita than anywhere else in South Afirca. There's a Crocodile Dundee equivalent on every corner and every barstool. Hazyview has supermarkets, bottle stores, hardware shops and a few decent restaurants, including the one in Rissington Inn, a hotel owned by my friend and fellow author Chris Harvie, who makes the best cooked breakfasts crocodile tail curry in Africa, if not the world. If you drive around the town's outskirts at night you need to keep an eye out for wandering hippos but during the day your main dangers are the local suicidal minibus taxi drivers and foreign tourists in rental cars and sleeveless photographic vests.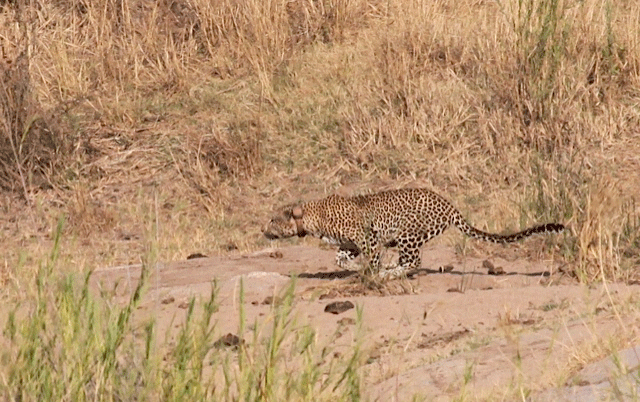 One of the neighbourhood cats – our resident male leopard who visits often from the neighbouring Kruger Park
Although I'm not from South Africa I've made many good friends in Hazyview and you can buy my books in the local newsagency and bookstore. People in Africa like reading books about the bush and locations they know and this dorpie (Afrikaans for a small town) has found its way into my novels, and my heart.
Thank you Tony. It was amazing to see parts of your world. It really makes your books come alive for me to see photo's of Africa. I love your rubbish collection but I'm not so keen on your neighbours that drop by. 🙂 Thanks again for sharing your 'whereabouts' with us.
You can follow Tony on Facebook here or read a snippet from his book Dark Heart here.