I get the Outback Magazine, which arrives by post, and it's always an interesting read and the rural photo's are some of the best. So it was very exciting to be included in the latest issue.
It's wonderful to have this exposure, not just for my book The Outback Heart but for what inspired it in the first place. Josh's story. To be able to help spread the word on organ donation through my writing has been wonderful and the feedback is brilliant. I'm proud to say I've just donated $3,500 to Transplant Australia through the sales of this book. Which I couldn't do without you, the readers. Thank you! 🙂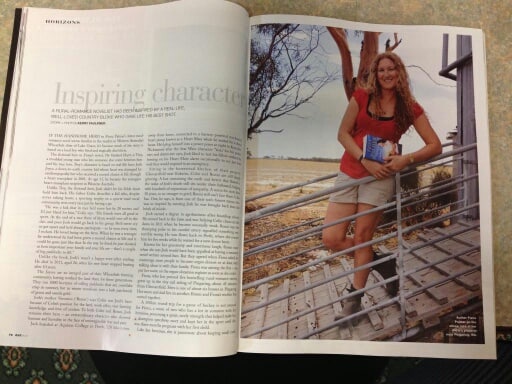 The lovely Kerry came all the way to Pingaring to write this story for Outback. She spent a few days with me while we got some photo's and met up with Colin and Ronnie. (It was warm as you can see by my shorts!! Strange to see considering it's winter now.)
There is a funny story (well, it's only funny now) with this picture below which was taken in Josh's paddock, the last paddock he was working in before he got sick. About two minutes after this photo was taken I could smell honey, and sure enough no sooner had the words left my mouth when bee's came out of the dead tree and chased us all. Kerry and Colin ended up getting stung a few times. (How's that for dedication to a story!)
It was mentioned that this was Josh's way of telling us all he'd had enough of the photo's and hype. There had been lots of photos!! 🙂 But it was worth it in every way to help get the message across.
Big thanks to Kerry, Colin, Ronnie and the Outback Magazine! 🙂