Jenn J McLeod is taking you home to the country….
Gosh, I'm glad I'm not following on from Tony Park's post [add link]. My writer whereabouts would seem rather tame after his – and in more ways than one; my little corner of the country is delightfully dull in terms of wildlife. It's quiet and peaceful, which was a very lovely change from the hectic corporate existence in Sydney.
Where I began…
I wasn't always small town girl. Growing up in Curl Curl – a leafy Sydney beachside suburb – I was more likely to find sand in unmentionable places than Redbacks on my toilet seat (or feet, Fee!). One day I woke up and found myself living in Sydney's Hills district in a 'McMansion'– the air-conditioned cocoon with an automatic garage door that swallowed us up into a private oblivion, then spat us out every morning like clockwork to tackle the 1.5-hour city commute.
Where I am now…
On this blog post today you can come home to the country with me and share my tree/sea change joy, because behind my desire to write small town stories is the desire to encourage others to look at life-style options and take a chance. As daunting and unfeasible as it may sound to you right now, you can slow down, simplify life and breathe fresh air. I not only left the city, I bought a cafe (not that I knew how one worked) and relocated Christmas 2003, taking over the iconic Sawtell cafe on the January long weekend!!!!! I sold the cafe in 2008 and now concentrate on writing (oh, and my B&B).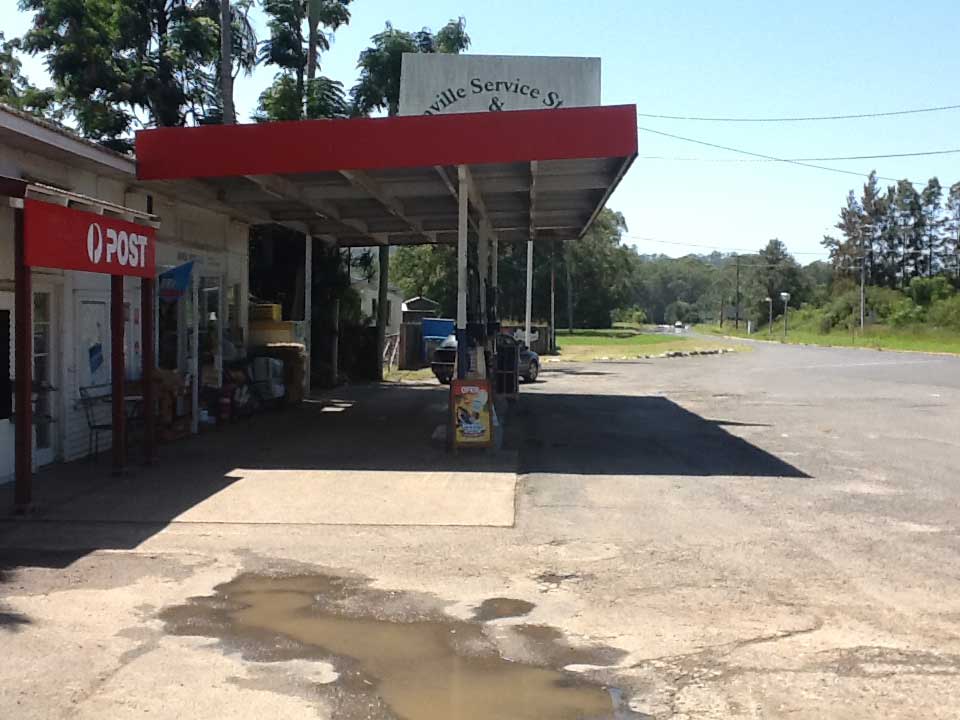 The picturesque Bonville Valley – a rural hamlet south of Coffs Harbour – has been home for a while now. It's mostly just acreages – small parcels, with and without livestock and orchards. (We used to have two petrol stations. We now have one – but it has a post office and sells yummy meat pies!)
On the street where I live…
My property, Wagtail Cottage, is a dog-friendly B&B where the dog is the VIP (that's Very Im-paw-tant Pet) and only well-behaved humans are allowed inside! So when I'm not writing I'm making beds and mopping floors.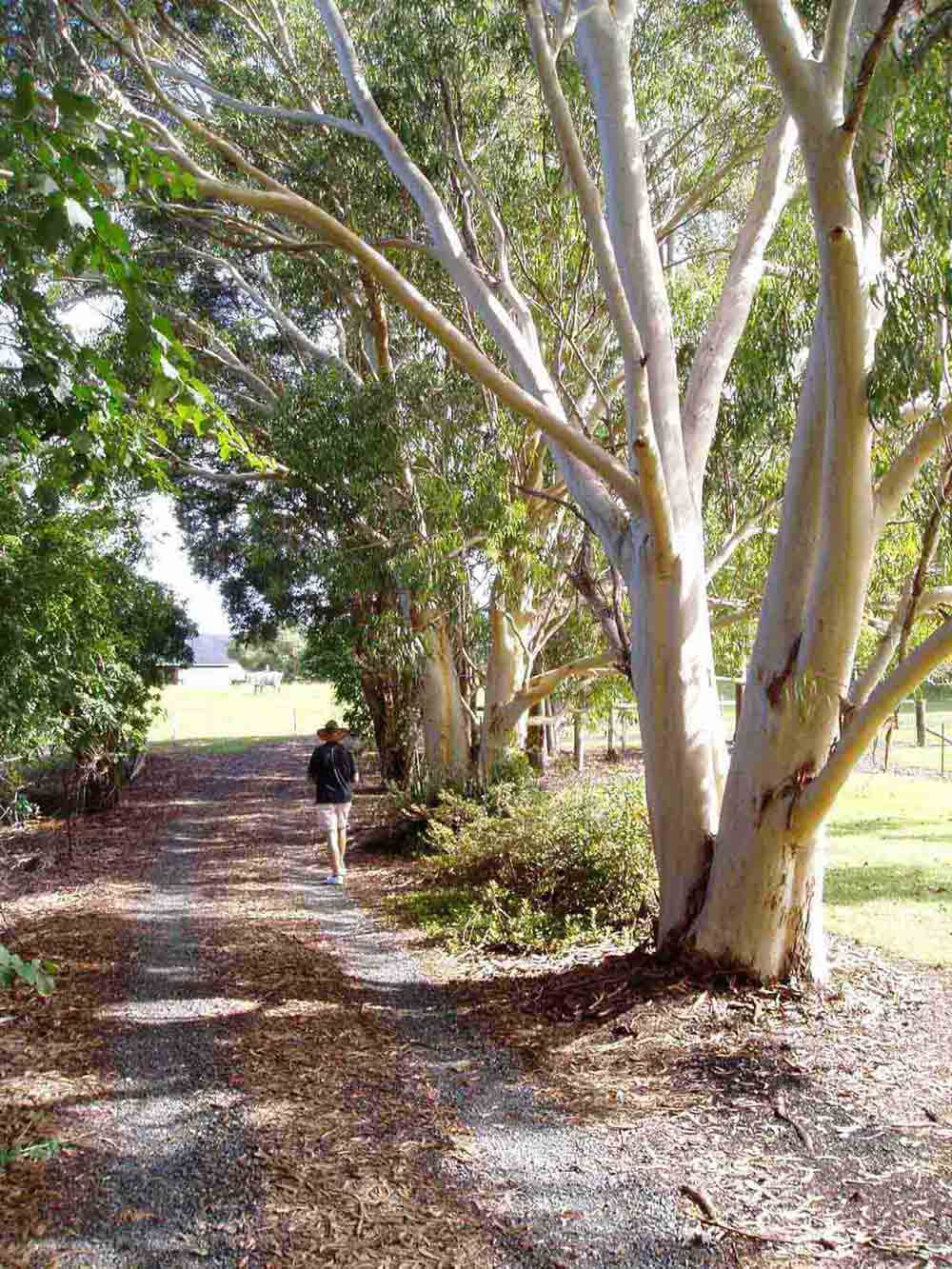 Come for a walk and I'll introduced you to some neighbours, like these cows and dorper sheep and the wonderful Mr Ed. My House for all Seasons novel has LOTS of animals in it!

Here's my street (1) in sunshine (2) when the creek bursts its banks and (3) creative cars!

The bigger picture…

Those mountains you can see are part of the Great Dividing Range. I live at the only spot the Great Divide meets the ocean. Dorrigo is somewhere on the top and Armidale is further west. To the east (not far, as the crow flies) is the sea. Down the highway a bit is Bundagen (a rural land sharing co-operative and wildlife sanctuary). http://bundagen.com.au/ We even have a nudist beach! (That reminds me, I should mention that bananas are HUGE here, both from an economic and a tourist perspective – obviously!)

In addition to the Great Divide to the west, Bonville is bounded by Bongil Bongil National Park, http://www.coffscoast.com.au/Places-to-Visit/National-Parks-and-Forests/Pages/Bongil-Bongil-NP.aspx the Pacific Ocean and Pine Creek State Forest (pls keep shooters out of it!)

My secret spot…

I will tell you about a secret place that locals like to keep to themselves. My author photos (taken by the very clever Marie Miller/Elle Fynllay) were taken at Never Never Creek, which runs through The Promised Lands – a true piece of paradise tucked away between Bonville and Bellingen. Many a lazy lunch has been enjoyed in Bellingen, with a leisurely back-roads trip home (if you don't mind a dust-covered car in the process).

Well, that's probably enough chatter. Best get back to writing at my desk. (The stuffed dog – that's Mocha – and his buddy Cino are about as productive as me some days!)

The seasons…

I'll leave you with my inspiration tree for House for all Seasons. Clearly, I love the seasons and I love watching this magnificent maple change through spring, summer, autumn and winter. (Shame the photos don't do the true colours justice.)

What's next?

Book two in my Seasons Collection – The Simmering Season – is out March next year. It's a loosely linked Calingarry Crossing novel in which a school reunion brings home more than memories for local publican, Maggie Lindeman.

After that? All going well, life will get even simpler when I downsize and set off…writing in a Winnebago.

In the meantime…. Floors need mopping in the B&B. You can check out the B&B here www.wagtailcottage.com.au (It does make a terrific writer's retreat – with furry muse!)

House for all Seasons – Simon & Schuster available in bookshop and online.

Read the 5-star reviews, watch the video, nosey around my place www.jennjmcleod.com

Come home to the country – Discover it. Love it.

And so this blog post does not turn into a tourist guide to all the wonderful natural wonders (no, I'm not referring to bananas!) you can explore yourself http://www.coffscoast.com.au/Places-to-Visit/National-Parks-and-Forests/Pages/default.aspx)

[nggallery id=4]