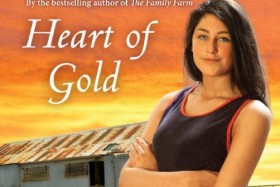 Okay so my dog Sally has nothing to do with this blog on research, I just needed a nice picture and besides – she is famous after all. Did you know she was on page 3 of the Weekend Australian. Now thanks to Karin, who asked about my research process, I will attempt to share with you how I go about it, research that is. (I'm sorry if you fall asleep whilst reading this.)  When I decide to write about something in particular, say shearing in Heart of Gold, then I research it further.  Seeing as I had worked in a shearing shed, I knew most of it. But I'd never shorn a sheep, or even knew how to do it correctly. Now Lindsay, my male lead character, is a brilliant shearer, so for him to know…I had to know. Yes, I could have thrown on my boots and headed out to the nearest shearing shed to
Tuesday, 17, March , 2009
by Admin
I'm into my new book called The Cleanest Cut and went to the Woolorama especially to watch the clean shears and gain some knowledge for the book. Cheers to Julene and Jason for introducing me to Nigel Reid who gave me the lowdown on the clean shears and how the points work, etc. It was greatly appreciated seeing as Nigel was soon off to shear in the Open. He's in the red singlet and was the first to bung out his starting sheep in around a minute and eight seconds. I really enjoyed watching the shearing and came away happy and confident to continue with the book. For all interested our winner in the Open was Mark Buscomb who did his 10 sheep in a time of 14.52 and an overall score of 64.80.
Tuesday, 17, March , 2009
by Admin
We recently went to Woolorama at Wagin, I needed information for the next book, and so we tramped around with the kids. They had a few rides and ate plenty of stuff that sends them silly, but overall it was a great day. I really liked the vehicles on parade and especially liked Kathleen's recently finished ute.
Recent Post
Finally my Internet is back and I can post the ...

Getting ideas for books is not a ...

It's finally here! My special Christmas p...