Today I have a great friend of mine stopping by for a chat – actually I have thrown a heap of questions at her – about her new book Rocking Horse Hill. As always, Cathryn is a hoot, which is why her books are so entertaining. (I'm hoping to score a copy of Rocking Horse Hill for Mother's Day. I've been dropping LOTS of hints to the kids!!) Here is the book and blurb.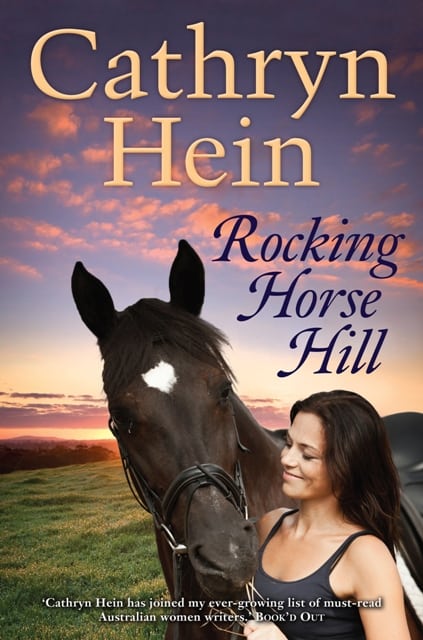 Ever since she was a little girl, Emily Wallace-Jones has loved Rocking Horse Hill. The beautiful family property is steeped in history. Everything important in Em's life has happened there. And even though Em's brother Digby has inherited the property, he has promised Em it will be her home for as long as she wishes.
When Digby falls in love with sweet Felicity Townsend, a girl from the wrong side of the tracks, Em worries about the future. But she is determined not to treat Felicity with the same teenage snobbery that tore apart her relationship with her first love, Josh Sinclair. A man who has now sauntered sexily back into Em's life and given her a chance for redemption.
But as Felicity settles in, the once tightly knitted Wallace-Jones family begins to fray. Suspicions are raised, Josh voices his distrust, and even Em's closest friends question where Felicity's motives lie. Conflicted but determined to make up for the damage caused by her past prejudices, Em sides with her brother and his fiancée until a near tragedy sets in motion a chain of events that will change the family forever.
Rocking Horse Hill is a moving family drama and passionate love story from the author of Heartland.
I can't wait to read it! The reviews for this book have been fantastic too. Now I'll throw it over to Cathryn, who has been such a gem and answered all my questions. 🙂
Thanks for having me on your blog, Fiona, and for asking such cool questions!
What would we find on your music play list?
Right now it's Pearl Jam's Sirens. It's the perfect song for my next book, The Falls. I play it to put me in the zone.
Otherwise you'll find anything from Puccini and Vivaldi to Metallica, French and Italian pop music, hits of the 50's through to now, and new Aussie music like Spiderbait's It's Beautiful. Our iPods are full of all sorts of weird stuff!
Something your readers would never guess about you?
I was going to say my golf handicap but I've been a little less shy about revealing of that of late, so… umm… maybe that I love, love, love the Eurovision Song Contest and not afraid to admit it!
Go on, tease all you like, I don't care. I know the truth. Eurovision is COOL.
What expression or word do you overuse?
I'm not sure I can reveal the true one, given it's a bit rude…
Oh, you mean in my writing? That's easy. Head shaking. There's been a whooole lot of that going on lately.
What book would you like to be in?
Ha! That's easy. Jilly Cooper's Riders.
I'd quite like to be Billy Lloyd-Foxe's girlfriend (and I'd be MUCH nicer than that Janie). Sure, Rupert Campbell-Black is a sex-god hunk but I suspect he'd be much better enjoyed from the safe arms of Billy.
Rupert is a delicious fling, Billy is for keeps.
Which scene or characters were the most difficult for you to write and why?
There were a couple in Rocking Horse Hill. Character-wise I think Felicity was the trickiest. It's hard to say too much without giving the plot away, but getting that combination of sweetness and damage right took some effort.
Scene-wise it was the romantic black moment between Josh and Emily. Black moments are massively important. They need to be emotional and credible and that takes a great deal of work. Plus I have a bad habit of bawling while I'm writing them which can make it hard to type!
If you could be an animal, what would you be?
I should say a horse but, bless them, they're not the brightest of creatures. So I'd like to be a dog or a dolphin. They're intelligent and life looks fun for them.
Do your friends or enemies ever find themselves in your books?
Er… now that would be telling!
There are always aspects of people that make their way into characters. It's often the little human quirks that makes characters really come alive and sometimes the people you know best unwittingly provide those traits.
But no, I can't recall ever deliberately putting someone into a book, although I've been tempted…
If you were not a writer, what would you like to do?
A world-travelling restaurant critic!
Who is your favourite character and why?
In Rocking Horse Hill? Josh. I have dreams about that man. Sigh.
But Emily's grandmother, Granny B, was also a hoot. That character was enormous fun. I wish she was alive.
What drives you insane about the writing process?
Structural edits, also known as revisions. I know they're good for me but, boy, do they hurt!
What is your favourite footwear?
Blundstone boots! Not the most elegant of footwear but bloody comfy. I just bought a new pair the other day.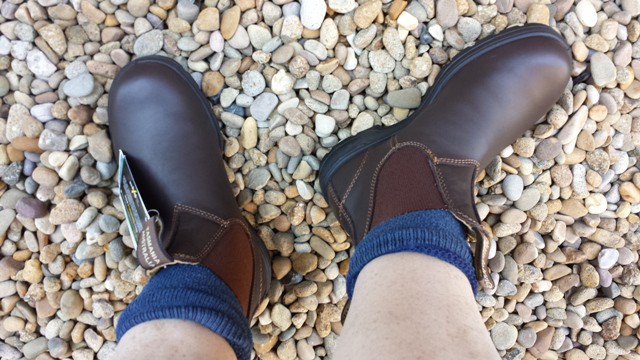 Do you prefer email/text or phone/talking?
Oh, that's a tricky one. It really depends who I'm communicating with. Some people can be hilarious with texts and email, others are hugely entertaining on the phone.
But all of them pale against face-to-face communication. That's the best.
Are you a planner or spontaneity person?
I'm not sure. A bit of both? I can be incredibly anal about some things and then adventuresome with others.
The last three books you read?
The Yellow Eyes of Crocodiles by Katherine Pancol
Satisfaction by Sarah Mayberry
The Autumn Bride by Anne Gracie
What movie have you recently watched or one you are looking forward to?
Thor: The Dark World. Chris Hemsworth. Enough said.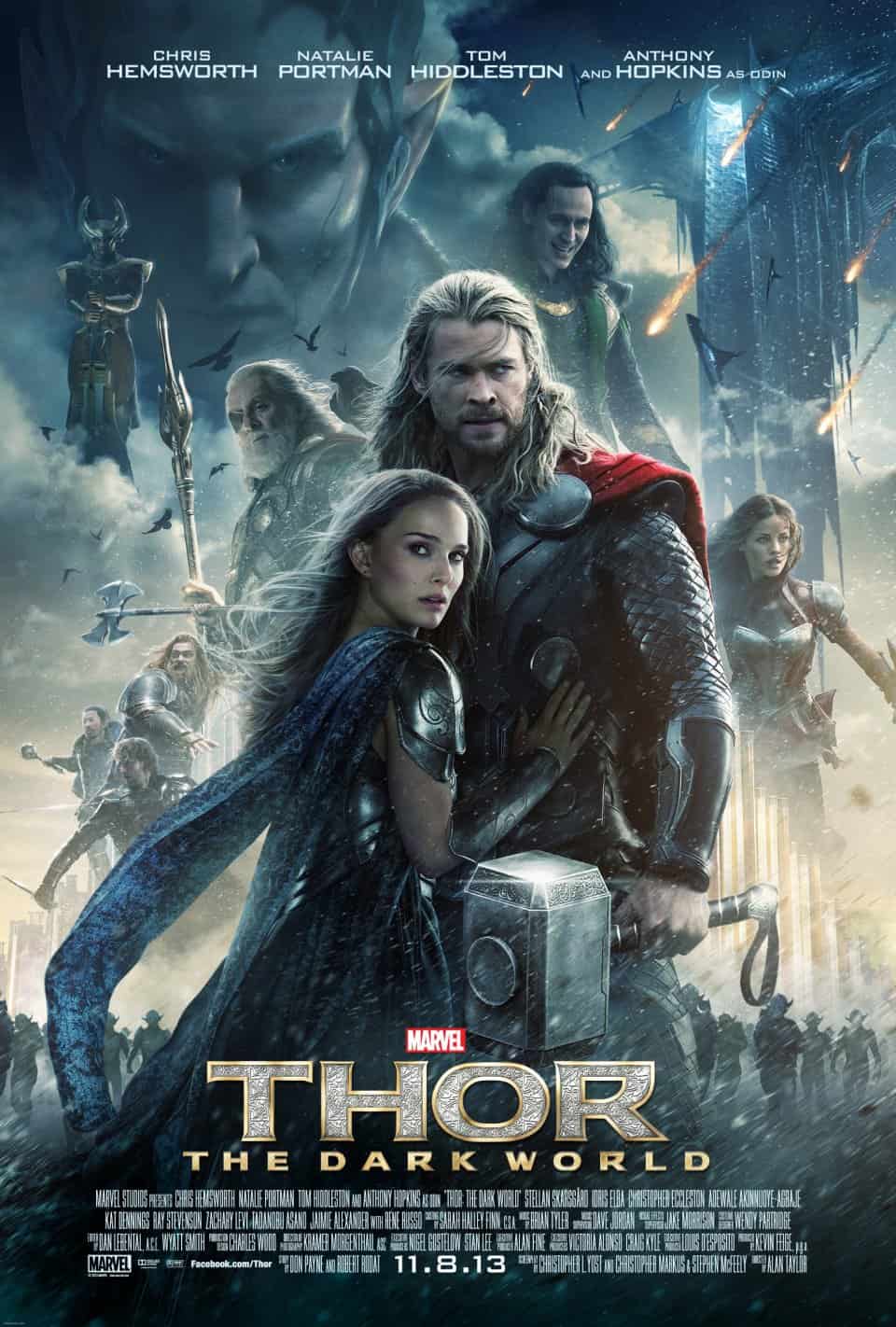 Where would you love to go for a holiday, and what would you do?
Greece, where I'd spend all day exploring its history and culture and all night eating myself silly.
Your favourite treat/lollie?
Wine and chocolate. Although they're more a necessary food group than a treat.
Do you have a feel good book or movie that you go back to watch/read over and over?
Love Actually. I cry every time. I also adore Across the Universe, which is a film made entirely of Beatles songs. I love a good sing-a-long and it and Mamma Mia make for huge, if rowdy, fun.
Ebook or Print?
Ebooks. LOVE them. I buy more and read more. My Kobo Glo has this fantastic backlight which makes the text really clear. So important for a crappy-eyesighted person like me.
Is there something specific you need as you write? Cup of coffee, pen, candy, certain room, etc.
A glass of water. I also quite like my big workstation and groovy office chair.
If your book became a movie, who would have the leading roles?
Ettore Bassi would be Josh. He played Commissioner David Rivera in the television series Rex in Rome. I had dreams about that man too…
I'm not sure who would play Em. Someone with cool beauty in the vein of Grace Kelly (but with dark hair). Maybe a young Charlize Theron for Felicity. For Granny B. I think Maggie Smith would be marvellous.
Describe your book in 5 words.
A passionate and dramatic love story. Oh, that's six. Sorry!
What is your favourite scene in this book?
I can't tell you without giving the plot away! But it comes close to the end…
But I also adore one of the early scenes between Josh and Em. Here's a tiny snippet:
Although he'd planned not to linger, he stayed for another drink, hanging with Digby, a mate from Digby's work and Jas and Teagan. Both Em and Felicity kept their distance, preferring Adrienne's and Samuel's company to their group of twenty- and thirty-somethings.
Finally, when it was past time for him to go, he caught Em's eye and tilted his head towards the door. She came to escort him out, Jas and Teagan watching them leave with amused expressions, like this was the best entertainment they'd had in years.
The wind had died down, leaving a night lit by Camrick's warm glow. The gravel of the drive crunched underfoot, punctuating their lack of talk.
He leaned against the back of his ute and crossed his arms. 'Nice evening.'
'Yes.'
'Do you mind that I came?'
'No, not at all.'
'Then you're glad?'
She squinted at the sky. 'Digby would have appreciated it.'
'I didn't ask about Dig, Em. I asked about you.'
From ROCKING HORSE HILL by Cathryn Hein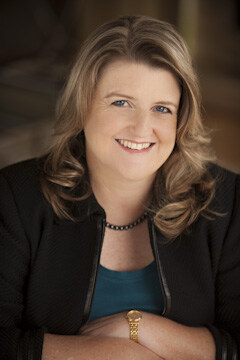 Cathryn Hein was born in South Australia's rural south-east. With three generations of jockeys in the family it was little wonder she grew up horse mad, finally obtaining her first horse at age 10. So began years of pony club, eventing, dressage and showjumping until university beckoned.
Armed with a shiny Bachelor of Applied Science (Agriculture) from Roseworthy College she moved to Melbourne and later Newcastle, working in the agricultural and turf seeds industry. Her partner's posting to France took Cathryn overseas for three years in Provence where she finally gave in to her life-long desire to write. Her short fiction has been recognised in numerous contests, and published in Woman's Day.
Cathryn's first three novels, Promises, Heart of the Valley and Heartland were finalists in the 2011, 2012 and 2013 Australian Romance Readers Awards. Rocking Horse Hill is her fourth rural romance novel. In September she will release The French Prize, her first romantic adventure story.
Cathryn currently lives at the base of the Blue Mountains in Sydney's far west with her partner of many years, Jim. When she's not writing, she plays golf (ineptly), cooks (well), and in football season barracks (rowdily) for her beloved Sydney Swans AFL team.
LINKS