Monday, 06 October 2014
by Admin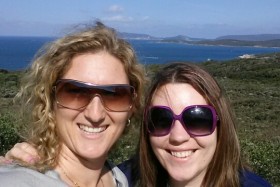 It was an Author Talk tour of epic proportions. One blue Holden Commodore with a trailer full of books travelling over 2,400 kilometres across the state of WA. Inside this tardis like vehicle were authors Fiona Palmer (driver) and Rachael Johns (navigator – with the help of WhereIs and our Wog Boy guide). We set off in September to Albany for a talk at the library and were interviewed by famous local Jon Doust. It was a belly laugh talk with Jon digging deep and asking the tricky questions. Then we headed to Kojonup, Rach's old stomping ground and first country home, also where Jilted was set. It was our first night of talking together, sharing our journeys to publication and the stories behind our new books. Next, we travelled to Busselton for a lunchtime library talk, catching up with the Dymocks girls. And Karen, from the Library,
Recent Post
February 2nd Hi Fiona, I can't believe it's Feb...

I've been a little quiet lately, but ther...

It was an Author Talk tour of epic propo...